2016 Food Drive: Into the final turn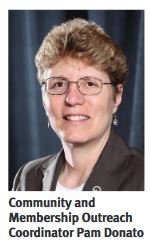 As we approach the last few days before our Stamp Out Hunger® Food Drive on Saturday, May 14, I'd like to highlight the things we can all still do to promote awareness and substantially increase the food collections for our local food agency partners.
I know there has already been a tremendous amount of work put in this year, with many of you starting your work last fall. And though we could sit back and just coast to the finish line, I know that's not in our DNA—more likely, we'll all find the energy for a strong kick in our food drive's final stretch.
Here's a list of things you all can still do to affect this year's success:
Put up all posters, flyers and yard signs in highly visible locations (lobbies, bus stops, cluster boxes, busy intersections, etc.).
Plan for letter carriers to replace their usual uniform shirts with specially designed Stamp Out Hunger food drive T-shirts during the week leading up to Saturday, May 14.
"Like," "share," post and tag, using all social media to garner awareness and support (Facebook, Twitter, Instagram).
Call local radio and TV news stations—go on air and be interviewed. (Tell them about our TV-ready public service announcement featuring Edward James Olmos.)
Make sure all letter carriers at your workplace are aware of the local plan, including delivering all postcards and food drive bags to all residential customers; safety—watching for glass containers, heavy items and wet/breaking bags; how to handle money donations and what the donation drop-off locations are; and thank-you cards (if used), or saying "thanks" to our customers.
Say "thank you" to everyone who helped.
As we move toward the finish line for 2016, make sure all the food is counted and recorded. Your local branch will need help herding all the totals from each station. Help to make sure we count every pound. And branch presidents, complete your final results form (which is tan-colored) and mail it in before June 10.
Awards for first place in each of the 11 categories will be presented at the 2016 National Convention in Los Angeles.
No matter the outcome, you are all winners and should feel proud of all you've done to help those in need. Saying "thank you" to all of you—branch, state and regional coordinators, and all letter carriers across the country—seems so inadequate. Yet I know that you all have an understanding of the power of your work. We are America's letter carriers delivering hope. And together we are making a positive difference in our world. Thank you!