Food Drive registration underway
Registration for the 2017 Letter Carriers' "Stamp Out Hunger®" Food Drive is underway. Branch presidents can access the registration form posted to the Members Only portal at nalc.org.
The 25th annual food drive will be held on its traditional second Saturday in May—Saturday, May 13, 2017. Interested rank-and-file members should urge their branch presidents to get on board and register now.
Presidents who register now will secure their orders for Food Drive-reminder postcards.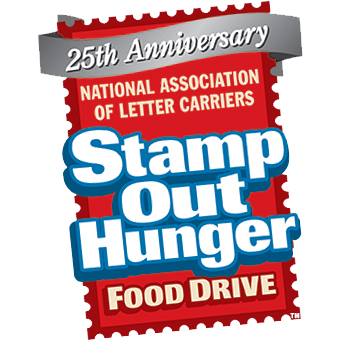 If you are a branch president or branch member who hasn't yet created your Members Only portal account, click here and enter the simple information required to create your account access.
Note: If you have any trouble creating your account, contact the NALC Membership Department at 202-662-2836.
Branch presidents: Once you're in the portal, select the "Branch Presidents" button and then select the "2017 Letter Carrier Food Drive" button. Complete all of the information fields, including how many residential deliveries are in your branch's delivery area. Note that this becomes your order for postcards.
Also, be sure to confirm whether you have a sponsor for bags and, if so, identify the sponsor(s).
When you are finished, select "Complete registration."
You must complete all fields for your registration to be confirmed. You will receive a confirmation notification once you are confirmed.
Online registration is fast and secure, and it helps to ensure all information is accurate—a win-win for branches and NALC Headquarters alike.