Help spread word about the Food Drive using Thunderclap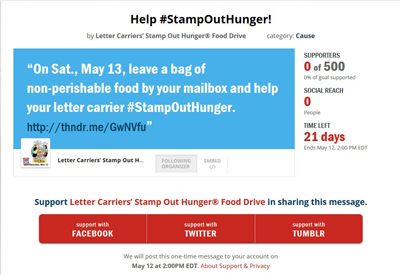 Join our "online flash mob" campaign through Thunderclap to help spread word about the 2017 Letter Carriers' Stamp Out Hunger® Food Drive on Saturday, May 13.
Click this link and follow the directions to promote the Food Drive using Twitter and Facebook.
Then, on Friday, May 12 (the day before the Food Drive), Thunderclap will post automatically on your behalf a reminder message to support the Food Drive by leaving a bag of non-perishable food by mailboxes before a letter carrier's normal pick-up time. Letter carriers will take the food to local food banks in their communities.
But to make the Thunderclap happen, we need at least 500 people to sign on to the campaign. That should be easy, right?
Last year's Food Drive Thunderclap reached more than 1.5 million people. Let's see if we can beat that.