Legislative Updates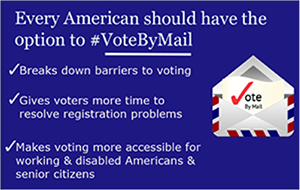 On May 25, Sens. Ron Wyden (D-OR) and Jeff Merkley (D-OR) reintroduced the Vote By Mail Act in the Senate, while Reps. Earl Blumenauer (D-OR) and David Cicilline (D-RI) introduced a companion bill in the House.
A slew of Senate Democrats co-sponsored the bill, including Sens. Feinstein (D-CA), Harris (D-CA), Markey (D-MA), Merkley (D-OR), Franken (D-MO), Murray (D-WA), Gillibrand (D-NY), Whitehouse (D-RI), Udall (D-NM), Baldwin (D-WI), Van Hollen (D-MD), Heinrich (D-NM), and Sanders (I-VT).
The measure aims to amend the Help America Vote Act to require states to mail ballots to all eligible voters at least two weeks in advance of federal elections. In addition to ensuring that all Americans have the ability to cast their vote by mail, the bill calls for authorizing additional funding for the U.S. Postal Service to mail the ballots at no cost to the states.
"NALC supports this effort to expand accessibility for citizens to participate in our democracy," NALC President Fredric Rolando said. "As the public face of the country's most trusted government agency, letter carriers stand ready to help make voting more convenient for millions of Americans."
The measures' key provisions include:
Increasing access to voting: States may not impose additional conditions or requirements on individuals eligible to vote in an election for federal office, except creating deadlines for returning ballots.
Providing ballot materials: States must mail ballots to all registered citizens voting in an election for federal office at least two weeks before Election Day.
Options to return ballots: Registered citizens will be able to return their ballots by mail, at secured drop-off locations or at polling stations.
Authorizing funds for USPS: Congress will appropriate the funds necessary for the Postal Service to mail ballots in federal elections, saving states money as they transition away from traditional polling stations and allowing the federal government to absorb the cost associated with USPS delivery.
The legislation is part of Wyden's campaign to expand the Oregon-style vote-by-mail program nationwide as a way of removing barriers to voting. Oregon became the first all-vote-by-mail state in 2000; since then, it has consistently had some of the highest voter turnout in the nation, most notably among young voters in midterm elections.