February 2015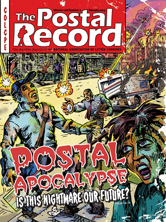 The Postal Record, Vol. 128, No. 2
Cover story
Postal apocalypse: Is this nightmare our future?
News and features
Annual salute to contributors to the Committee on Letter Carrier Political Education:Automatic contributors, occasional contributors, group contributors
National election appeals denied; Registration for 2015 Food Drive; Cost-of-living adjustment
Pro-postal resolutions introduced in 114th Congress; Monitoring of USPS response to cyber breach; In memoriam: Robert Buntz, Halline Overby
Safety and Service Committee update; Nalcrest continues making improvements
Executive Council selects Detroit for 2018 convention
Rolando announces RAA appointments
NALC and Nalcrest financial statements
Proud to Serve
Click here to see the cover story in a two-page-spread format (PDF).
Click here to see the full cover graphic (large JPG, 15.1 MB).