Food Drive
---
The 23rd annual Letter Carriers' Food Drive
is on Saturday, May 9, 2015.
---
---
New! To help branch Food Drive coordinators build relationships and to grow their local drives, we've created a print brochure and DVD for use in soliciting local drive sponsors. Read on to find out more.

---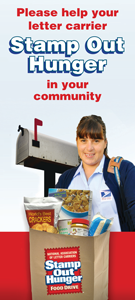 NALC is making the push now for our 2015 Letter Carriers' Stamp Out Hunger Food Drive.
Letter carriers are the most trusted federal employees. We see our customers at their homes or where they work every day. Our Food Drive benefits local communities.
There are countless ways for a local branch to grow its food drive collections. NALC has added new layers each year: billboards, Facebook and social media, local contests and new partners. They make a big difference and the local creativity displayed each year is astounding.
However, the biggest impact on any food drive collection, bar none, is promotion through bags that can be returned full of food. Postcards are a great reminder and introduction to the food drive for our patrons, but bags seal the deal.
To assist every branch in securing food drive bags, the NALC is opening up the 2015 Tool Kit now. It's a work in progress, with items from 2014 serving as placeholders until updated 2015 materials can be created and uploaded. So please check back for updated materials.
In the tool kit, branch food drive coordinators can find bag templates and estimated prices from experienced vendors—both paper and plastic. We plan to provide polished sponsor solicitation materials to help branch coordinators make a professional pitch to potential local or state partners.
New in this year's tool kit is a color brochure and DVD that specifically highlight the enormous upside for any business that partners with letter carriers and our food drive next spring.
Getting out of the gate early to identify sponsors is key to the Food Drive's success. Often, coordinators are told, "We don't have funds for this right now, come back next year." Reaching out for partners in the fall is crucial; it's when these businesses and organizations are planning their 2015 budgets. The Food Drive needs to become a part of these budgets, and this early start can help do just that.
An afternoon's investment looking for partners now can save several weeks of difficult work later next spring and likely lead to a better outcome.
Click here to find out more about the brochure and DVD.
Click here to read the joint NALC-USPS thank you letter.