Letter Carriers' 'Stamp Out Hunger' Food Drive
---
The 23rd annual Letter Carriers' Food Drive
is on Saturday, May 9, 2015.
---
Looking for plastic Food Drive bags from manufacturer CMG? They have arrived at the Postal Service and are in the process of working their way to branches that have ordered them!
---

What's new in the Food Drive Tool Kit?
Sample billboard art used by Lamar Billboards nationwide (under "Artwork and logos")
New section: Map the Gap 2015 (from Feeding America)
The cover image from the "Stamp Out Hunger" Facebook page (under "Artwork and logos")
Spanish-language 30-second TV PSA, courtesy San Juan, PR Br. 869 (under "Videos")
Video public service announcement, 30- and 60-second versions (under "Videos")
Radio public service announcements, 30- and 60-second versions (under "Audio")
Food Drive proclamation template (under "Coordinator resources")
Suncoast District letter of support from DM Nancy Rettingouse (under "Support documents")
List of 2015 branch Food Drive coordinators (as of March 13)
2015 letter of support from USPS Chief Operating Officer David Williams (under "Support documents")
Save-the-date postcard templates (under "Campaign materials")
2015 Coordinators Manual (full version, under "Coordinator resources")
---

This placard is on each direct pallet of postcards.
Postcards are on their way!
Save-the-date reminder postcards for the 2015 Letter Carriers' "Stamp Out Hunger" Food Drive are on their way to local food drive coordinators all across the country. Coordinators should start looking for them to arrive at the destination addresses that were requested on branch food drive registration forms.
On each direct pallet that's destined for a particular branch address is posted a placard (see right) that instructs USPS personnel not to take the pallet apart and run the content on machines.
A full tray holds 4,000 postcards, five bundles of 800 postcards each per tray.
A half tray hold 2,000 postcards, two bundles of 800 postcards each and one half-bundle of 400 postcards.
A full pallet of 48 full trays equals 192,000 postcards.
Example of a direct pallet (all trays in the pallet are going
to one branch-designated address)

Example of a mixed/working pallet (USPS personnel can unwrap
and direct as coded on each tray of postcards)

Branch food drive coordinators can check the coordinators database to confirm the destination address that of their postcard orders.
---
Branches step up to 'Stamp Out Hunger'
(Community and Membership Outreach Coordinator Pam Donato's column in the March 2015 Postal Record)
The success of the NALC is connected to the level of activism and engagement of our local branch leaders and our rank-and-file members who work together to achieve a goal. The success of the letter carriers' "Stamp Out Hunger" food drive is direct evidence of this.
This year we need our local leaders and coordinators more than ever as we adjust our stance in the batter's box to hit some pre-season curve balls. (Yes, it's the beginning of that season, too.)
With the exit of a national partner that would have funded the entire order of food drive postcards, NALC has searched for ways to minimize this loss. We reached out to another national partner, Feeding America, and their affiliate food banks, which often are our local partners on the ground and who receive the majority of our collected donations. Working with the NALC's regional leaders, we asked those Feeding America affiliates for direct monetary contributions for postcards in these local areas.
As of this writing, many of those food banks have stepped up to make arrangements to fund postcards. As the recipients of food drive donations, they understand the incredible importance of raising awareness of the drive. NALC National also is paying for many of the postcards.
But, with 120 million delivery points nationwide, there still is a need for more funding help. While this is not how we planned for this year's food drive preparations to go, I know from experience that when presented with any challenge, letter carriers and local NALC leaders will rise to the occasion.
So, what can you do? First order of business is to make a list of needs. How many postcards do you need? Then check with your local food bank or food pantry. Can they help pay for the postcards you need? Check the food drive database and talk with your regional food drive coordinator. Assess your situation.
If you have a different local partner or business that is willing to sponsor your local postcards, the artwork template is on our toolkit. A local sponsor's logo can be added to the template for local printing. Often, a friendly local printer will donate part of the normal costs for printing as a contribution to help those in need. At most, these postcards cost a few pennies each and, like those printed at the national level, the postage is provided by the postmaster general with the use of the G10 Permit.
If you already have postcards and bags, continue to work toward securing other campaign materials, such as billboards, radio ads or lawn signs. Or, organize volunteers from faith community groups, the Rotary, United Way, VFW, American Legion and youth groups. This is a community event and we can often use volunteers for very physical activities to more sedentary work. Every bit helps.
At this point in the year and given the challenges ahead this year, one of the most valuable assets you have is the online toolkit. It has artwork, information, tips and talking points, regional food drive representative contact information and our national partner network links to locate affiliates in your own area.
Look to the United Way, the AFL CIO, National Rural Letter Carriers' Association and the USPS. Each has a local infrastructure and each is committed to working with you, shoulder to shoulder, in your own back yard. Contact them and enlist their support to help Stamp Out Hunger.
Ultimately, this food drive is the letter carriers' food drive. Yes, we partner with other groups, businesses and organizations. And yes, our work in this food drive is helped by a diverse list of like-minded folks who want to support those in need. But as it was in the beginning, letter carriers are now and always will be at the core of the food drive effort. There's no one better in the world than letter carriers at the local level to take the reins and lead this
food drive to our stated goal: to stamp out hunger.
---

This is the 2015 food drive's official promotional video. It's available for download now in the toolkit.
New tools for building local sponsorships
In December, President Rolando sent a letter to all branch presidents encouraging them to support the NALC's 2015 Letter Carrier Stamp Out Hunger Food Drive. This letter, along with the attached registration form, kicked off the official season of food drive planning, dreaming and inspiring—all so we can help those in need with the largest food collection possible on Saturday, May 9. For many, filling out the registration form and planning for the drive have become routine, but the 2015 drive will be anything but routine. With new tools and new partners, this year's drive promises to be exciting.
Knowing that our best sales personnel wear a blue letter carrier uniform and deliver in every community in the country, the NALC has made significant investments to provide you with new and professional tools to promote your local drive. The NALC hired one of the most trusted marketing consultants, IEG, to evaluate and calculate areas of significant value for partners and sponsors from a marketing standpoint. IEG's assessment helped us to fairly and efficiently organize the contributions of national partners. These calculations reinforce what we've known since the beginning of the drive more than 20 years ago: Co-sponsoring the Stamp Out Hunger Food Drive is an extremely valuable opportunity for any business or organization.
Using what we learned, we created a full-color trifold brochure to give to potential sponsors that beautifully illustrates the benefits of partnering with our food drive. We also created a DVD that's designed specifically to solicit local and regional partners for the drive. The DVD contains tips and testimonials related to partnerships with the Stamp Out Hunger Food Drive, highlighting the benefits for everyone involved.
What does this mean to food drive coordinators at the local and regional levels? Bags, bags, bags! Armed with the brochure and video, food drive coordinators and volunteers can make professional pitches for funding for plastic or paper bags, along with other advertising from businesses and organizations in a coordinator's back yard. Both the brochure and video are available for download from the Food Drive Tool Kit page. They also can be ordered by e-mailing lettercarrierfooddrive@nalc.org or by calling 202-662-2489. They are available at no cost, but there are limited supplies, so please order as soon as you can.
The Letter Carrier Food Drive has an incredible history of which we can all be proud, and we have learned much over the years. Distributing bags makes a huge difference in collection totals. Anticipation is high to see how these new materials will be used to build support, to grow our partnerships, to advance our advertising and more. Most importantly, it all comes down to increasing our army of volunteers. All of this, of course, aims to further our goal to Stamp Out Hunger in our communities.
---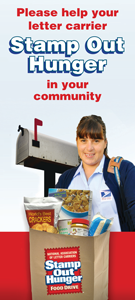 Letter carriers are the most trusted federal employees. We see our customers at their homes or where they work every day. Our Food Drive benefits local communities.
There are countless ways for a local branch to grow its food drive collections. NALC has added new layers each year: billboards, Facebook and social media, local contests and new partners. They make a big difference and the local creativity displayed each year is astounding.
However, the biggest impact on any food drive collection, bar none, is promotion through bags that can be returned full of food. Postcards are a great reminder and introduction to the food drive for our patrons, but bags seal the deal.
To assist every branch in securing food drive bags, the NALC is opening up the 2015 Tool Kit now. It's a work in progress, with items from 2014 serving as placeholders until updated 2015 materials can be created and uploaded. So please check back for updated materials.
In the tool kit, branch food drive coordinators can find bag templates and estimated prices from experienced vendors—both paper and plastic. We plan to provide polished sponsor solicitation materials to help branch coordinators make a professional pitch to potential local or state partners.
New in this year's tool kit is a color brochure and DVD that specifically highlight the enormous upside for any business that partners with letter carriers and our food drive next spring.
Getting out of the gate early to identify sponsors is key to the Food Drive's success. Often, coordinators are told, "We don't have funds for this right now, come back next year." Reaching out for partners in the fall is crucial; it's when these businesses and organizations are planning their 2015 budgets. The Food Drive needs to become a part of these budgets, and this early start can help do just that.
An afternoon's investment looking for partners now can save several weeks of difficult work later next spring and likely lead to a better outcome.