Food Drive Tool Kit
The 25th annual
National Association of Letter Carriers'
Stamp Out Hunger® Food Drive
is on Saturday, May 13, 2017.
FREQUENTLY ASKED QUESTIONS (FAQs):
Start here to look for answers to some frequently asked questions.
---
Branch Food Drive Coordinator Database: Click here to log in to the Branch Food Drive Coordinator's Database (opens a new window or tab)
MEDIA: Click here to access video and audio files suitable for broadcast
Tax forms: To claim your donation as tax-deductible, contact your local food bank or pantry.
Still can't find what you need? After reading through these pages you still have questions regarding the Food Drive, get in touch with NALC Director of Community Services Pam Donato at 202-662-2489 or at donato@nalc.org.
For Food Drive coordinators
Click
here to log in to the Food Drive Coordinators' Database.
(Opens a new window or tab.)

NOTE:
Your user name and password were included in your Food Drive coordinators' information packet.
Branch coordinators list (as of May 2)
| | |
| --- | --- |
| 2016 certificate of appreciation | 2016 volunteer activity certificate |
Tips for submitting photos, video and news clips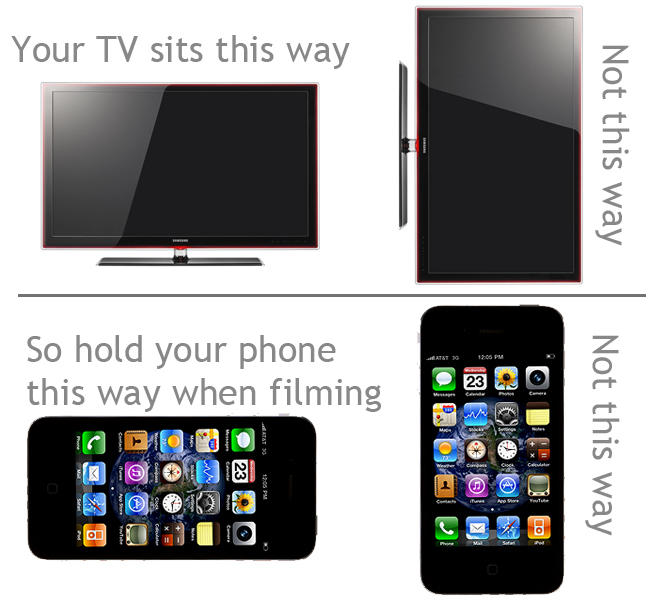 If you have a cell phone camera, shoot photos or a little video of your various collection and sorting activities. Hold the camera horizontally (landscape), hold it as steady as possible, and have fun with it.
Then…send us any footage you shot—photos as well as videos. You can upload these files quite easily by dragging and dropping the files into a special Hightail "cloud" folder—no user name or password required. Once you get on the site, it's self explanatory.
Click here to access the Hightail folder.
If you are interviewed by local news media in your city (TV or radio), or if your local stations run a story before or after the Food Drive, please let us know the name of the station and the approximate time the story aired.
Sample posts for social media
These will work on both Facebook and Twitter.
Join us in supporting the Letter Carriers' #StampOutHunger Food Drive on Saturday, May 13! Learn more: https://www.nalc.org/food
America's largest one-day food drive is Saturday, May 13. Help your letter carriers #StampOutHunger: https://www.nalc.org/food
If you need to customize (add photos, logos, etc.), please remember the key points are:
The official name is the Letter Carriers' Stamp Out Hunger Food Drive.
It is held on Saturday, May 13. (Mentioning Saturday is crucial.)
It is the largest one-day food drive in America.
The 2016 drive collected more than 80 million pounds of non-perishable food.
2017 marks the 25th annual drive.
All food collected stays local.
The drive can be tagged on Facebook and Twitter using @StampOutHunger.
The official social media hashtag (useable on all platforms) is #StampOutHunger.
En español: Puerto Rico en contra del hambre (Facebook photos for sharing)
Promotional materials (bags, printed material, swag)
Examples of billboards from past years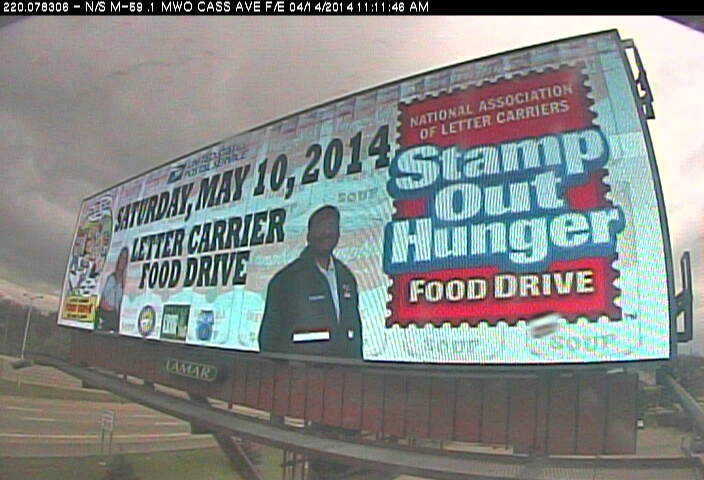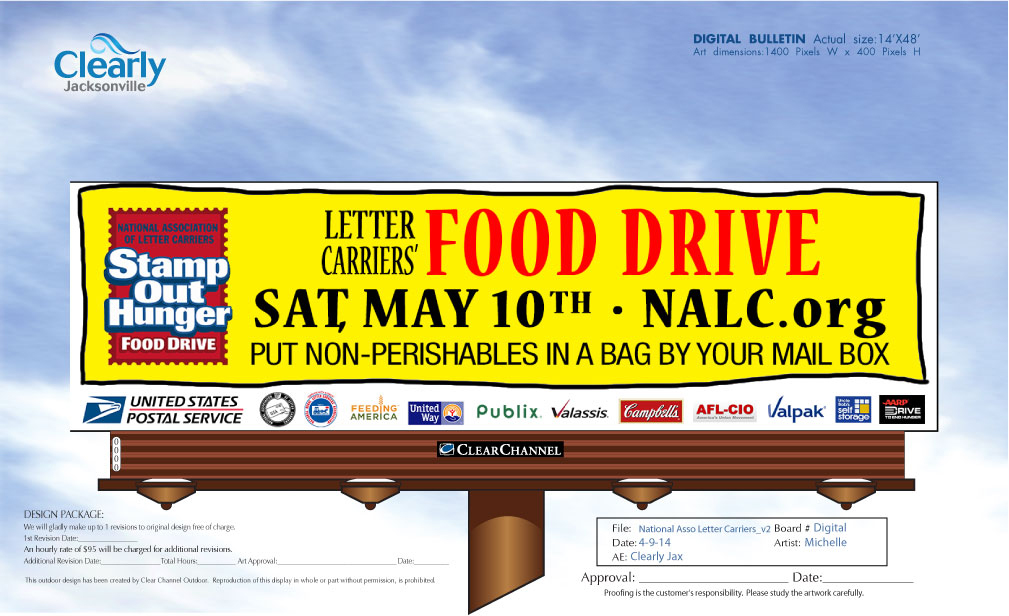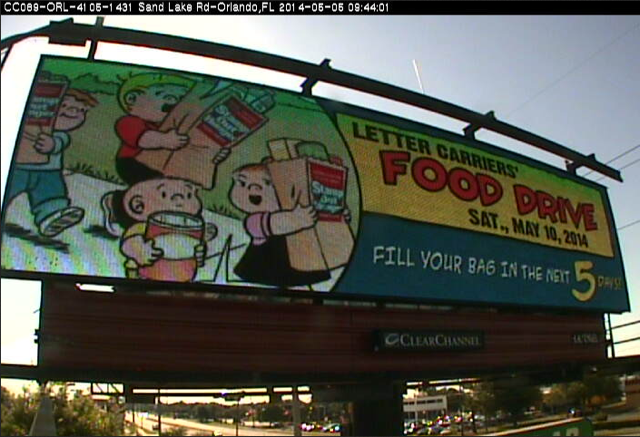 Documents/proclamations of support

Activities for children, parents and teachers
2016 Wondergrove Kids video
The password is psa123.
Click here to download this video from the Vimeo website. The password is psa123.
Food Drive background/history
The NALC National Food Drive is the outgrowth of a tradition of community service exhibited repeatedly by members of the letter carriers union over the years. These carriers, who go into neighborhoods in every town six days a week, have always been involved when something needed to be done, whether it be collecting funds for a charity like the Muscular Dystrophy Association, watching over the elderly through the Carrier Alert program, assisting the American Red Cross during time of disaster, or rescuing victims of fires, crime, and other mishaps.
For many years, a number of branches had collected food for the needy as part of their community service effort. Discussions were held by the NALC, U.S. Postal Service and AFL-CIO Community Services Department to explore a coordinated effort. A pilot drive was held in 10 cities in October, 1991, and it proved so successful that work began immediately on making it a nationwide effort.
Input from food banks and pantries suggested that late spring would be the best time since by then most food banks in the country start running out of donations received during the Thanksgiving and Christmas holiday periods.
A revamped drive was organized for May 15, 1993—the second Saturday in May—with a goal of having at least one NALC branch in each of the 50 states participating. The result was astounding. More than 11 million pounds of food was collected—a one-day record in the United States—involving more than 220 union branches.
From Alaska to Florida and Maine to Hawaii, letter carriers did double duty—delivering mail and picking up donations. It just grew and grew from that point.
In 2010, the food drive surpassed the 1 billion pound park in total food collected over its history.
More
Branch registration documents

Food Drive partnership opportunities

Tips/Talking Points for Sponsor Solicitation Meeting—useful as a reminder tool to accompany the sponsor solicitation DVD and brochure (below)
---
To help branch Food Drive coordinators build local relationships and to grow their local drives, we've created a print brochure and DVD for use in soliciting local drive sponsors.
E-mail lettercarrierfooddrive@nalc.org or call NALC Community and Membership Outreach Coordinator Pam Donato at (202) 662-2489 for more information.
2016 Letter Carriers' Food Drive partner/sponsor solicitation video
2016 promotional video

--click here to download the .MOV (Apple/Quicktime) file from Hightail
--click here to download the .WMV (Windows Media) file from Hightail
2016 Letter Carriers' Food Drive brochure
Media
Videos, audio, public service announcements

Award-winning actor Edward James Olmos (Stand and Deliver, "Battlestar Galactica") is this year's national spokesperson. He stars in food drive–promoting public service announcements in English and Spanish that feature NALC and UFCW representatives. YouTube videos are easily shared on social media.
TV public service announcements
ATTENTION BROADCASTERS: Use the "Broadcast version" links to download slated, high-quality, Nielsen-encoded and soft-captioned video files that are suitable for broadcast (hosted on extremereach.com).
Radio public service announcements
Radio public service announcements
—downloading from NALC's Hightail cloud account

Local radio PSA for Norfolk, VA-area featuring NALC Region 13 Regional Administrative Assistant Marc Adams (MP3)
"Motivational" Food Drive video
Click here to download the video file in .MOV format (hosted on NALC's Hightail account).
This file is viewable either in Windows Media or Apple Quicktime.

---