Labor ties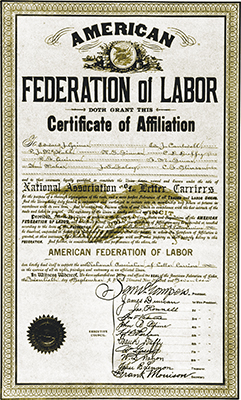 NALC: Part of the global labor movement
FOUNDED 1889
CHARTERED MEMBER OF AFL-CIO 1917
AFFILIATED WITH INTERNATIONAL LABOR SINCE 1950
NALC and the labor movement
Throughout the late 19th century, even before the letter carriers organized into a national union, they were struggling side by side with other American workers in the fight to establish an eight-hour work day.

The struggle for an eight-hour day is a landmark in letter carrier history, but it was also an intense nationwide movement, one involving an enormous number of workers in addition to letter carriers. At the time carriers were working 10 to 12 hours a day, seven days a week, so the passage of the Eight Hour Law in 1888 was a cause for celebration and a tribute to the labor movement's maxim, "strength through" unity. In solidarity with their fellow workers and flushed with labor's victory, letter carriers were ready to form their own national union, the National Association of Letter Carriers.
With these historical roots, NALC firmly established itself as part of the global labor movement with long-standing ties to their working brothers and sisters in America and around the world.
NALC's Ties to Organized Labor