City Delivery
---
Other topics
The NALC Guide to Identifying Intentional False Editing of Clock Rings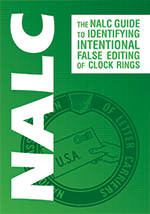 The NALC Guide to Identifying Intentional False Editing of Clock Rings was created to assist union representatives when investigating grievances concerning clock ring edits that impact letter carriers' pay. The guide provides instruction on reading the TACS Employee Everything Report, examples of improperly edited clock rings, and includes a grievance starter to help build successful case files.
Wounded Warriors Leave
USPS recently updated the Wound Warriors Leave policy effective January 5, 2019. Eligible military veterans will be credited with 104 hours of Wounded Warriors Leave each leave year as long as they remain eligible under the policy guidelines. This is a significant improvement over the previous policy which provided this benefit as a one-time occurrence only.
The Postal Service released an updated Management Instruction EL-510-2019-2 (M-01901) setting forth policy guidelines and standard procedures for administering this category of leave. This new instruction replaces Management Instruction EL-510-2016-8 (M-01881).
PS Form 5980, "Treatment Verification for 'Wounded Warriors' Leave"
National level case on management reverting vacant full-time letter carrier assignments without current route inspection data (M-01796)
The NALC and USPS have signed M-01796 regarding whether a vacant full-time letter carrier assignment may be reverted without current route inspection data.
In the past, management would sometimes revert a route when it became vacant without current route inspection data. This was a widespread problem several years ago and has remained an issue in some places.
The parties agree that the determination of whether an established route is full-time will be made using one of the following procedures:
A six-day mail count and inspection in accordance with the provisions of Handbook M-39 A route adjustment pursuant to Section 141 of Handbook M-39 (provided the data used is reasonably current and from the regular carrier assigned to the route)
Evaluation through a national jointly agreed upon route evaluation process
Evaluation through an authorized locally developed joint route evaluation process
Additionally, the settlement affirms that it in no way alters the maximization provisions of Article 7.3 of the National Agreement..
MOUs regarding Delivery Unit Optimization (DUO) and retreat rights under DUO
The NALC and USPS have reached agreement on two Memorandums of Understanding (MOUs) regarding the issue of Delivery Unit Optimization (DUO). Generally speaking, this is where all the letter carriers in an office are moved to a different Installation and the post office where they used to work stays open with window services.
M-01744 addresses resolving the differences where two or more Local Memorandums of Understanding (LMOU) are involved as well as what happens in the event USPS changes its mind somewhere down the road and decides to move the letter carriers back to the original installation.
M-01745 addresses several issues involved when a Delivery Unit Optimization (DUO) occurs, including who goes, notice period, seniority, hold-down assignments, higher-level assignments (Article 25), and previously approved annual leave. It must be noted that these MOU's do not apply in situations where there are already clear contractual provisions that govern the movement of letter carriers and consolidation of post offices. This point is outlined in both MOUs.
NALC and the USPS have entered into another Memorandum of Understanding (M-01778) to clarify the intent of the previous DUO agreements as they pertain to the limited circumstance where letter carrier(s) have active retreat rights back to any installation involved in DUO. This new MOU (M-01778) requires such retreat rights for letter carriers to be carried forward to the gaining installation.
Letter carriers with active retreat rights to the gaining installation are not altered by this new MOU except the order of offering retreat rights may be affected. This is true because the seniority rosters of all installations involved in a DUO are merged.
Additionally, the new MOU requires that retreat rights to the original installation will be restored in the event the DUO process is reversed and letter carriers are returned to their original installation.
FSS Work Methods
In November 2008, the NALC and the USPS signed a national memorandum of understanding on approved FSS work methods (M-01697). This MOU governs how letter carriers serving park-and-loop or foot deliveries in FSS offices handle additional bundles of mail. The MOU states:
City letter carriers serving park-and-loop or foot deliveries will not be required to carry more than three bundles.
In order to maintain three bundles on pre-sequenced mail days, letter carriers serving park-and-loop or foot deliveries may only be assigned to either:

case residual mail, then collate with FSS mail while in the office (the pre-sequenced bundle must meet the definition of a third bundle under the Interpretive Step agreement for case Q98N-4Q-C 00189552) or,
case residual mail, then collate with the pre-sequenced addressed mail during pull down while in the office.

There is no change to current work methods for other types of deliveries.
When a simplified mailing is carried as a third bundle by city letter carriers serving park-and-loop or foot deliveries, the simplified mailing will be placed on the bottom of the appropriate bundle. In order to maintain three bundles in this circumstance, residual mail and any pre-sequenced mail delivered that day will be collated with the FSS mail.
City carrier case configurations will be consistent with requirements in methods handbooks M-39 and M-41. City carriers working in an FSS environment will be consulted before case configuration changes are implemented.
The MOU came as a result of reviewing the final report of the joint FSS task force (M-01691). The report also memorializes each party's FSS perspectives and recommendations, as well as the conclusion of what has been jointly agreed to regarding the FSS environment.
FSS Implementation
In September 2007, the NALC and the USPS signed a national memorandum of understanding on the implementation of FSS (M-01643). This MOU established two things.
Once FSS is fully implemented in a delivery unit, management will determine the methods to estimate impact in a delivery unit and make route adjustments accordingly.
Sixty days after implementing route adjustments for FSS, the local parties will review the adjustments to ensure that routes are as near 8 hours as possible. This 60-day period will not count toward the special route inspection process (Section 271, Handbook M-39; Section 918, Handbook M-41). If either party determines that the route(s) is (are) not properly adjusted, then the route(s) will be adjusted In accordance with the provisions of Handbook M-39 or, if applicable, a locally agreed upon adjustment formula.
The terms of this memorandum were effective immediately and continue through all phases of Flats Sequencing System (FSS) implementation.
For a detailed explanation on your rights in and the procedures of adjusting routes in accordance with the provisions of Handbook M-39, see the NALC's Route Protection Program.