Letter Carriers' Stamp Out Hunger® Food Drive
---
The 25th annual Letter Carriers'
Stamp Out Hunger® Food Drive
—Saturday, May 13, 2017—
THANK YOU!



Specific questions regarding the Food Drive should be directed to NALC Director of Community Services Pam Donato at 202-662-2489 or at donato@nalc.org.
Send us your photos!
You can upload photos from this year's Food Drive by dragging and dropping the files into a special Hightail "cloud" folder—no user name or password required. Once you get on the site, it's self explanatory. Click here to access the Hightail folder. Photos may be posted online or published in a future edition of The Postal Record, NALC's monthly magazine for members.
Stamp Out Hunger® is a registered trademark of the National Association of Letter Carriers,
and may not be used or reproduced without prior written permission of the National Association of Letter Carriers.
---
Top questions:

Will my food get picked up if the weather's bad?
Is my letter carrier and/or post office taking part?
I put food out and it wasn't picked up. Why not?

Fastest answers:
Frequently Asked Questions (and answers)
Thank you for your interest and enthusiasm for the Letter Carriers' Food Drive!
Are food drive donations tax-deductible?
All donations to the Letter Carriers' Stamp Out Hunger® Food Drive are tax-deductible because all of the food collected on Food Drive Day is given directly to non-profit charity food agencies in the community the food was collected. Though the National Association of Letter Carriers plans the Food Drive's logistics and letter carriers provide the transportation for each donor's generous donation, the National Association of Letter carriers is not the agency that gets listed on tax forms for claiming deductions. There are more than 10,000 food agencies throughout the country that receive these donations, so if you itemize your taxes and want to provide proper credit for your Food Drive donations, you will need to determine the name of the agency (food pantry or other charity) that received your food, as well as the agency's address and tax identification number for proper reporting on your tax-filing forms. The Food Drive Coordinator at your local post office (click here for a post office locator) should be able to give you the name of the receiving agency, and that agency will likely have tax information handy.
CVS Health steps up to help Stamp Out Hunger

CVS Health is teaming up with NALC and the Letter Carriers' Stamp Out Hunger Food Drive this year to build awareness for the 25th annual national food drive on Saturday, May 13. In the weeks leading up to the drive, CVS Health will play a public service announcement for the food drive on an in-store radio channel twice an hour in more than 10,000 CVS stores nationwide, and it will feature the food drive on the corporate intranet's MyLife channel—available to CVS Health's 240,000 employeess—and on TV screens in all corporate hubs.
Buy your official Stamp Out Hunger merchandise online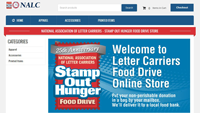 The online Stamp Out Hunger store is now available, with products available for purchase in quantities starting at just one—no bulk ordering necessary. Click here to get started.
Souvenir postage commemorates 25th Stamp Out Hunger
The National Association of Letter Carriers is pleased to join the American Philatelic Society as the APS unveils a commemorative postage sheet for the 25th Anniversary of the "Stamp Out Hunger" Food Drive. | Press release
---
The 25th annual Letter Carriers' Stamp Out Hunger Food Drive—
Food drive helps letter carriers give back to communities
Final preparations are underway for the 25th annual Letter Carriers' Stamp Out Hunger® Food Drive on Saturday, May 13.
And America's letter carriers will be ready for it, NALC President Fredric Rolando said. "Preparation and coordination for Food Drive Day can be challenging," he said. "Despite the challenges, we look forward to it each year becauseof the important role we're playing in thefight against hunger in this country."
As letter carriers are keenly aware, too many of our customers live in challenging situations, uncertain of where their next meal will come.
"We deliver to every address in America at least six days a week," Rolando said, "and because we're such a consistent and familiar presence in neighborhoods, we're all too familiar with the unfortunate reality of ongoing hunger."
Over the last 24 national food drives, letter carriers have collected more than 1.5 billion pounds of food, helped by untold thousands of fellow postal employees, retired letter carriers, family members and friends. The food is then distributed to local food pantries within the same communities where it was collected. (As we celebrate the 25th anniversary of the food drive, read more about its fascinating history here.)
Joining NALC this year as national food drive partners are the U.S. Postal Service, National Rural Letter Carriers' Association, United Food and Commercial Workers International Union, United Way Worldwide, AFL-CIO, AARP Foundation, Valpak and Valassis.
To help spread the word, the Postal Service is once again distributing special Stamp Out Hunger buttons that letter carriers and other postal employees can wear in the days leading up to the drive.
In a letter to area vice presidents, Postal Service Chief Operating Officer David Williams encouraged full support for the food drive—"by approving any appropriate local promotions (such as carriers
replacing uniform shirts with the Food Drive T-shirt during the campaign, and wearing lapel buttons promoting the food drive) and assisting with the distribution of special bags as a customer convenience to collect food donations."
Branch food drive coordinators should return the official results form to National Headquarters as soon as possible, but in all cases to arrive at NALC no later than the June 9 deadline for publication in
The Postal Record.
Picture perfect: Action photos, video clips and news media items from the food drive also should be forwarded to Headquarters as soon as possible. If you're planning to use your smartphone to take videos or photos of food drive volunteers in action, be sure to hold your phone camera horizontally (landscape) and as steady as possible.
You can upload your photos easily by dragging and dropping the files into this special Hightail "cloud" folder—no user name or password required. Once you get on the site, it's self-explanatory. And you'll help us out tremendously if you include a message with your photos that tells us your branch name and number as well as the name of the city where your photos were taken.
If you are interviewed by local news media in your city—TV, radio or newspaper—or if your local stations or papers run stories about the food drive beforehand or afterward, please send an e-mail to lettercarrierfooddrive@nalc.org and let us know the name of the station and the approximate time the story aired. You can also send a link to such stories to that e-mail address.
Be sure to keep in touch with the food drive's official social media accounts—on Facebook, "like" facebook.com/StampOutHunger, and on Twitter, follow @StampOutHunger.
---
Celebrating the 2016 Food Drive
A video recap of NALC's 24th annual national Stamp Out Hunger Food Drive, which took place on Saturday, May 14, 2016. Prepared for NALC's 70th Biennial National Convention.
Click here to download the video file (.MOV format only) from NALC's Hightail cloud account.