Letter Carriers' Stamp Out Hunger® Food Drive
---
The 27th annual Letter Carriers'
Stamp Out Hunger® Food Drive
was on Saturday, May 11, 2019.
Specific questions regarding the Food Drive should be directed to NALC Director of Community Services at 202-662-2489.
Result forms were due by June 1.

Stamp Out Hunger® is a registered trademark of the National Association of Letter Carriers,
and may not be used or reproduced without prior written permission of the National Association of Letter Carriers.
---
---
Incredible results:
Silver-anniversary Food Drive another shining success
(Click here to download the magazine version of this article in the July Postal Record. It contains more pictures plus the branch totals listing available at press time in mid-June.)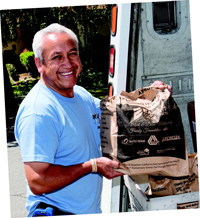 America's letter carriers joined thousands of volunteers on Saturday, May 13, to come to the rescue of millions of struggling families throughout the United States through the 25th annual Letter Carriers' Stamp Out Hunger® Food Drive.
"At least six days a week, letter carriers see firsthand the needs of the communities they work in," NALC President Fredric Rolando said, "and we're privileged to be able to help those in need while leading an effort that brings out the best in so many Americans."
This year's silver-anniversary event brought in more than 71 million pounds of non-perishable food that was collected from generous postal patrons and delivered to community food banks, pantries and shelters, providing families in need with a lifeline of basic nutrition.
Asheboro, NC Branch 2560 letter carrier Wyatt Thompson noted in a letter to The Courier Tribune how carriers collected food donations in addition to delivering mail and packages on Food Drive Day. "Letter carriers witness daily the desperation of patrons who are suffering and they always respond," he wrote. "It is definitely the most demanding day of the year for all carriers."
Overall, NALC was able to provide critically needed goods to local food distribution centers in every state. The tally for this year's drive, as of the June 2017 Postal Record's deadline, was 71 million pounds of food collected in more than 10,000 cities and towns in all 50 states plus the District of Columbia, Puerto Rico, Guam and the U.S. Virgin Islands. This figure brought the quarter-century total to more than 1.5 billion pounds.
"As the mail trucks arrived at the post office filled with food items, the letter carriers expressed how they were happy to be involved in making a difference," United Way of Greater Lima's Carol Braden-Clarke told the Englewood [OH] Independent. "Letter carriers provide a valuable service in our community as the watchdogs of neighborhoods. They see every day where and when there may be a person in need."
Los Angeles Branch 24 captured the title as top branch in the nation by collecting 2.1 million pounds of food. A list of the highest-collecting branches in 11 membership categories, as well as a branch-by-branch report of food collection totals can be found beginning on page 18.
President Rolando highlighted the efforts of the nation's letter carriers, their families and volunteers for their help in making the drive a success. He also thanked the NALC's national partners in this year's drive, including the U.S. Postal Service, the National Rural Letter Carriers' Association, United Food and Commercial Workers International Union (UFCW), AFL-CIO, Valpak Direct Marketing Systems, United Way Worldwide and its local United Ways, AARP Foundation and Valassis.
UFCW's sponsorship helped to pay for the millions of postcards that arrived in every residential mailbox in the country shortly before Saturday, May 13, with Valpak handling the printing of the cards and the logistics involved in getting them to every branch. USPS generously donated the use of its G-10 postage permit for the mailing of post cards and other food drive-related items, while a Valassis' Red Plum mailing combined with the blue-envelope mailing by Valpak help ensured that millions would keep the food drive in mind when they shopped for groceries.
Rolando also noted with appreciation the boost provided by "Family Circus" cartoonist Jeff Keane, who once again this year provided special artwork to promote the drive. And the president thanked acclaimed actor Edward James Olmos ("Battlestar Galactica," "Stand and Deliver") for once again serving as the food drive's national celebrity spokesman. During a food drive kickoff event in Van Nuys, CA, Olmos was joined by fellow actor Jeri Ryan ("Body of Proof," "Star Trek: Voyager"), who volunteered her time to stop by and lend her voice—and later her considerable social media presence—to help spread word about the drive.
Articles about the drive, before and after Saturday, May 13, ran in hundreds of news outlets—print, web, radio and television. And in the weeks leading up to Food Drive Day, CVS Health ran in-store announcements to promote the drive to a captive audience of pharmacy customers. Food drive enthusiasm also was boosted by the American Philatelic Society's release of a special Photo Stamps souvenir postage sheet commemorating the drive's 25th anniversary. In March, Reno, NV Branch 704 hosted an event at the national AmeriStamp Expo that helped launched the sale of sheets, the proceeds of which benefited the food drive.
Perfect timing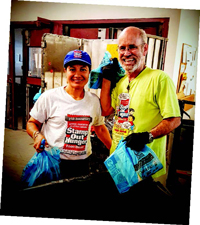 The Food Drive is held each year on the second Saturday in May, and this year's event "couldn't have come at a better time," Arizona's Apache Junction Food Bank's Sharon Brown told the Independent. "With kids out of school and the departure of our winter guests, our food needs increase greatly during the summer months. Without school-supported programs, our clients' food budgets are stretched to the breaking point."
When the national food drive started in 1993, food banks suggested that it be held in the spring, when the stocks of food donated during the winter holidays were starting to run low.
"Without the Letter Carriers' Food Drive, it would be very difficult for the food pantry to have enough food throughout the year," Jason Schaff of Santa Clarita, CA's Valley Food Pantry told The Signal.
"It is truly amazing how the efforts of our community can impact our continued role to supply food to hundreds of partners throughout New Mexico for the benefit of our hungry neighbors," Roadrunner Food Bank's Melody Wattenbarger told the Albuquerque [NM] Journal. "[Customers'] generosity will help us prepare for the busy summer months when hunger is at its highest."
Of course, the second Saturday in May frequently falls before another special day. "[The food drive] always happens around Mother's Day, and it's like we are mothering the community by helping provide food," Tulsa, OK Branch 1358 letter carrier Teri Light told Tulsa World. "It's so neat to see people give, and sometimes the people that don't have very much give the most."
Blackfoot, ID Branch 1411 President Robert Morgan credited customers for his local drive's accomplishments. "Our community has made it the amazing success that it is," he told the Morning News. "We are as humbled as we are proud to be a part of it."
That all of the donated food stays in the local community was a key fact noted by Alpena, MI Postmaster Rob Gross. "Maybe those people who were not sure if they wanted to do it, they will do it next year knowing that," he told The Alpena News, reminding the newspaper's readers that the entire effort is voluntary. "Even the carriers, they go out and stay after work on their own time," he said.
"It really helps us get through the year," Store House Community Food Pantry's Charles Calhoun told The Vicksburg [MS] Post. "This is one of the best-organized things you will ever see. It is a real good thing they do for us here."
"I think the importance of holding a one-day drive like this is, not only is it helping the community, it is bringing the community together," Eau Claire, WI Branch 728 President Corey Grotte told WQOW-TV. "We have volunteers from United Way, schools, churches and everybody is coming together."
Across the Badger State—as well as across the county—volunteers of all ages could be counted on for help and support on Food Drive Day. "It was fun," third-grader and Brownie Girl Scout Sarah Demar told Waukesha, WI Lake Country Now. "And it felt good to help out, because I could really imagine how people who don't have enough food must feel."
For 76-year-old Killeen, TX food drive volunteer Newman Bryant, this annual event helps demonstrate how critical the Postal Service's universal delivery network remains in the digital age. "The letter carriers are the real heroes," Bryant told the Killeen Daily Herald, "and if we do away with post offices, then this wouldn't happen anymore."
Chattanooga, TN Branch 62 letter carrier Martin Miller stressed to WRCB-TV that letter carriers "are just the picker-uppers. It's the community that's doing it, and they help each other out here in the community."
Rural letter carrier Patty Borkland told Dover, NH's Foster's Daily Democrat that "it was really cool to see many new faces" showing up to volunteer for this year's food drive. "Let's not forget those faces who work so hard breaking down all the food as it is brought in to the pantry," she added.
Silver linings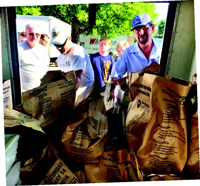 Of course, a lot of factors can influence collection totals from one branch to the next and from one year to the next—the weather, competing major local events and so on. But with now 25 national food drives serving as guides, many of the most experienced food drive coordinators have learned to roll with whatever else might be happening in their communities on Food Drive Day and to focus not so much on achieving some arbitrary collection goal but rather on doing the best job possible to raise awareness about the ongoing problem of hunger in America.
"Even if we don't hit our goal, it's food that wasn't there yesterday that will be there tomorrow," Minneapolis Branch 9 Food Drive Coordinator Samantha Hartwig told the Star Tribune.
Vancouver, WA Branch 1104 Food Drive Coordinator Don Young told The Columbian that although rain and hail on May 13, might have discouraged some customers from setting food out by their mailboxes, he considered his local drive a success because of the 10,000-plus pounds increase of food collected compared with last year's drive. "As long as we increase our poundage every year, that's fine with us," he said.
Weather plus a fire in Georgia's Okefenokee Swamp dominated the news on Food Drive Day in nearby Valdosta. "Our staff and volunteers did get caught in the rain a few times," Second Harvest's Eliza McCall told the Valdosta Daily Times. "But we didn't mind, knowing that our neighbors to the east and firefighters needed it badly."
Representatives from Rehoboth Beach, DE's Epworth United Methodist Church noted in a letter to the Cape Gazette that hunger and homelessness remain real problems even in a resort town such as theirs. "Because of the generous donations of non-perishable food items—despite miserably wet weather on the day of the drive—[our pantry] will be well stocked for much of this year."
There is a common misconception, though, that the only people who need food are homeless, Ventura County, CA's FOOD Share's Mark Lowry told the Tri County Sentry. "Clearly homeless people need food," he said. "But the largest population we serve are actually seniors on fixed incomes and people that work full time, but are in jobs that simply don't pay enough."
In fact, the people who need food the most are the "people you really wouldn't expect to see," Michael McKee of the Charlottesville, VA-based Blue Ridge Area Food Bank told WMRA-FM. "More and more of the folks we're serving are working families. These are folks who lost good jobs in the recession and are scrambling, cobbling together maybe one or two part-time jobs."
The food drive's help becomes even more crucial when considering how relying on government-sponsored safety nets often isn't enough. "Food stamps for many don't last more than two-and-a-half to three weeks," said Philip Yates with Medford, OR's ACCESS Nutrition Program on KDRV-TV.
In Enid News, Oklahoma City Branch 458's Steve Riggs, who served as his state's food drive coordinator, described hunger as "a silent epidemic that is closer than you think."
"Just put yourself in someone else's shoes," advised Lexington, KY Branch 361 Food Drive Coordinator Randy Wiles in a story in the Richmond Register. "You never know when you might lose your job and be down on your luck and need help, too."
Above and beyond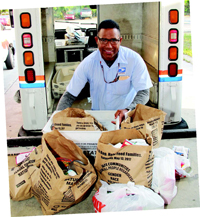 Whether branch food collection totals were up or down this year, the sheer amount collected in branch after branch often was a sight to behold.
"When I left for vacation on Friday [May 12], the fruit and vegetable shelf and the rice and cereal shelf were empty," Church Community Services' Felicia Bethea told the Laurinburg [NC] Exchange. "When I came in [the following Wednesday] everything was full."
The 9,000-plus pounds of food collected by rural letter carriers in the Missouri communities of Seymour and Rogersville "was a nice surprise," Southern Webster County Food Pantry's Janet Mitchell told the Webster County Citizen.
"We're astounded at the amount of food we took in," Bloomington, IL Branch 522 Food Drive Coordinator Kim Marshall told The Pantagraph, emphasizing that all collected food stays local. "It's a good feeling to know that we live in a community that's looking out for each other."
For Andrew Schiff of Providence, RI's Food Bank, the food drive is "critical" to his agency's ability to provide food for families through into the summer months. "We are so thankful to the letter carriers and postal customers who teamed up to collect tens of thousands of pounds of food for Rhode Islanders in need of food assistance—all in one day!" he told the Providence Journal.
"This amount [we collected] exceeded our expectations and proves once again that our community cares about each other," Springfield, MO Branch 203 letter carrier Tom Carter told the Springfield News-Leader.
"To see neighbors helping neighbors is really impressive," said Denver Branch 47 Food Drive Coordinator Jeff Frey on KXRM-TV. "As letter carriers, we see the need. On this day, we were able to do something about it."
For Postal Service spokeswoman Susan Wright, there was plenty of credit to go around. "With the generosity of Cumberland County residents and the hard work of many volunteers," she told Tennessee's Crossville Chronicle, "local food banks will have much-needed supplies entering the summer months when many school breakfast and lunch programs are not available to children in need."
Highland Park, IL Township Supervisor Anne Flanigan Bassi spoke about the local food drive's "tremendous effort" in a story by the Highland Park Patch. "Letter carriers stayed after," she said, "unloading their trucks to help carry and sort food, and their effort was far above and beyond the call of duty and deeply appreciated."
"The carriers followed their slogan to 'Stamp Out Hunger' by providing nutritious food and conducting the drive in a friendly, caring and organized way," Mary Wheat of Pittsfield, MA's South Congregational Church told the Berkshire Eagle. "It was a pleasure to work with them."
"We appreciate everyone in the county who donated," Harrisburg, PA Branch 500 Food Drive Coordinator Greg Andregic told Pottsville's Republican Herald. "The food banks are full and happy."
Getting noticed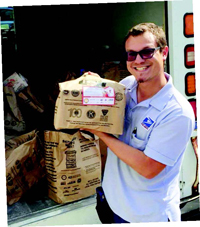 In some areas of the country, the success of this year's drive often resulted from local distribution of special paper or plastic Food Drive bags, which often leads to higher food donation amounts.
Bags are an additional expense and not every branch has the means to secure sponsorships to help defray some of the production cost (although USPS does donate its G-10 permit to allow them to be mailed), so distribution of the bags nationally is not yet a reality.
Killeen, TX Branch 4217 food drive coordinator Tina Jones told the Killeen Daily Herald that bags made a key difference as "a visual incentive for people to fill with food and leave it for the carriers to pick up."
This was the first year that special food drive bags were distributed in Dekalb, IL, and Northern Illinois University's Clare Kron credited them with the local drive's success. "We knew distributing bags widely should have done something, according to national statistics, and it sure did," Kron told the Daily Chronicle. "Our bags said 'Hunger craves attention,' and we were able to give hunger the attention it needed this year."
Whether donations were left in special bags or plain bags, all were gladly accepted.
"The Stockton community has always been there for the food bank and we continue to be extremely grateful to the community," said Mike Donaghy of Stockton, CA's Emergency Food Bank, which recorded a haul of food three times greater than last year's. "But this year is overwhelming."
"It's awesome," Empora, KS Branch 185 letter carrier Janet Way told the Belleville News Democrat. "This community is amazing when it comes to giving."
On Danville, VA's WSET-TV, God's Storehouse's Karen Harris expressed her thanks "for the community, for their generosity, for their participation, and also for the postal, city and rural carriers. It's an extra burden on them."
In a letter to the Huron Daily Tribune, Bad Axe, MI Branch 1817's Debra Polega quoted Scottish writer Henry Drummond: "You will find as you look back upon your life that the moments that stand out, the moments when you have really lived, are the moments when you have done things in a spirit of love."
As one drive ends, preparation for another begins: NALC already is hard at work to get ready for the 26th annual NALC National Food Drive on Saturday, May 14—as always, the second Saturday in May—as the union continues its mission to help the millions and millions of men, women and children across American who face hunger in their communities every single day.
---
Celebrating the 2016 Food Drive
A video recap of NALC's 24th annual national Stamp Out Hunger Food Drive, which took place on Saturday, May 14, 2016. Prepared for NALC's 70th Biennial National Convention.
Click here to download the video file (.MOV format only) from NALC's Hightail cloud account.