NALC's history with MDA
More than 50 years of NALC support
Millions to fight Muscular Dystrophy
The 'Porch Light Brigade'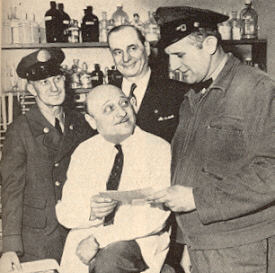 In 1954, through the efforts of letter carriers in Chicago, a grant of $28,102.75 was presented to the University of Chicago College of Medicine for research on Muscular Dystrophy. In the picture Dr. Ralph W. Gerard, professor of neurophysiology, accepts check from NALC's Chicago Branch 11 carriers.
The NALC embraced the Muscular Dystrophy Association as its "official charity" in 1952, becoming the first official national sponsor of the group founded in 1950. The union's first nationally coordinated campaign to raise funds for MDA came during Thanksgiving Week in 1953, when tens of thousands of letter carriers in more than 800 cities returned to their routes for a second time after completing their holiday-heavy mail deliveries. The all-volunteer effort was called "The Letter Carrier March for Muscular Dystrophy."
Individual letter carriers repeated their appointed rounds in the evening, soliciting donations door to door.
Because of the late hour the volunteers got the nickname "the porch light brigade." Many carried their now-empty leather mail satchels as badges of authenticity to reassure donors these men and women could be trusted with their hard-earned nickels, dimes and quarters.
At the end of the week, the results were mind boggling, even by today's standards--nearly $4 million collected!
And that was just for starters
In the decades since that first porch light brigade, NALC members have used scores of techniques to raise money for MDA, from raffles, pancake suppers and golf tournaments to canister collections at road blocks and backyard carnivals with dunk tanks.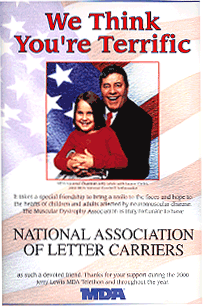 The tireless efforts of letter carriers to raise funds for MDA made them guests on Jerry Lewis' famous Labor Day MDA Telethon almost from its begining in the early 1960s. After all, it was only fitting that the American public have an opportunity to see the true heroes of NALC's fundraising efforts.
As the telethon was billed as an entertainment show as well as a fundraiser, singing letter carriers performed over the years in addition to making sizeable contributions every year. The appearance of letter carriers helped focus America's television viewing audience not only on the talents of letter carriers, but also on carriers' traditional generous and caring support of those in their communities and the nation who needed extra help and assistance.
The tradional telethon ran until 2010, when Lewis stepped down as host. Since then, shorter versions have aired, billed as the "MDA Show of Strength." A pre-recorded message featuring NALC's national president usually aired during the program.
Thanks to the efforts of thousands of concerned letter carriers combined with the contributions of millions of other caring citizens across this country, MDA research has realized dramatic research breakthroughs in recent years. The discovery of the Duchenne gene several years ago, while not a cure for this ravaging disease, has led to the development of a treatment which may delay the confinement of some MD-stricken children to a wheel chair. These medical breakthroughs are solid evidence that letter carriers' persistent efforts to help alleviate the suffering inflicted by this terrible disease have made a difference.
NALC's steady contributions over the last half century have been instrumental in opening a new era in muscular dystrophy research, even as every year finds NALC members carrying on the tradition of the porch light brigade—delivering hope to people with neuromuscular diseases.