Urge your representative to support door delivery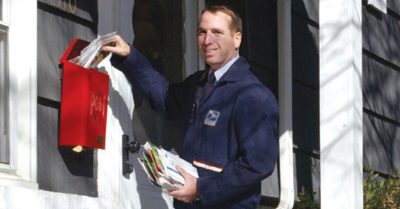 Congress might have a busy schedule after returning to Washington, but the U.S. House of Representatives still could take up postal reform legislation as early as the lame-duck session after Election Day on Nov. 8.
As you know, legislators are weighing reforms to door delivery for business and residential customers. As we work to educate members of Congress on why cuts to door delivery aren't the way to go, we continue to point to House Resolution 28, which now has 210 bipartisan co-sponsors. Recent efforts over summer recess have helped us get a few more co-sponsors onto House Resolution 28.
If 218 of the 435 representatives (enough to create a majority) support maintaining door delivery, we'll be in a better position to defend against this service cut.
Every day, letter carriers are educating their members on what door delivery means in their communities by going local—whether its talking about residential customers who could be impacted or the local businesses that we engage through Customer Connect.
Let's keep up the momentum we've built and remind Congress how important door delivery is for the Postal Service, for our customers and for our jobs.
To check whether your member of Congress is a co-sponsor, click here.

Call the Capitol Switchboard at 202-224-3121, ask for your representative, and encourage him or her to support House Resolution 28.
For talking points on why door delivery is important, click here.
For information on how door delivery relates to postal reform legislation, click here.