Legislative Updates
As the 114th Congress comes to a close following an intense election cycle, we can now glean what the next Congress will look like. When Congress and President-elect Donald Trump are sworn in to office next month, it will be the first time since 2007 that Republicans have controlled the House, Senate, White House and the majority of state legislatures and governorships. While the exact details about Republicans' agenda in Washington remains unclear, below is an overview of the makeup of the 115th Congress.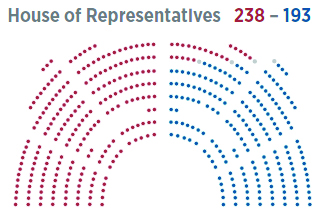 House of Representatives
The House is welcoming 53 freshmen: 27 Democrats and 26 Republicans. Twelve incumbents were defeated by their opponents. With these changes, the 115th will consist of 238 Republicans and 193 Democrats—a small shift in favor of the Democrats from the 114th, where the split was 247 Republicans to 188 Democrats.
Rep. Paul Ryan (R-WI) will remain Speaker of the House and Rep. Nancy Pelosi (D-CA) will continue as minority leader. (House Democrats will choose their leaders on Nov. 30.)
The House Oversight and Government Reform Committee, which oversees the Postal Service, will continue to see Rep. Jason Chaffetz (R-UT) serving as chairman and Rep. Elijah Cummings (D-MD) as its ranking member.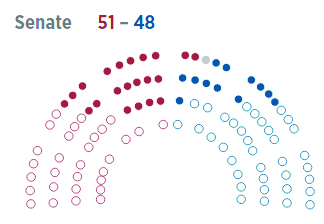 Senate
The Senate will see six freshmen in its chamber—five Democrats and one Republican. The Senate will consist of 51 Republicans and 48 Democrats (a run-off in Louisiana is expected to yield an additional seat for the Republicans). The change reflects a nominal shift from the current make-up of 54 Republicans and 46 Democrats (this includes two Independents who caucus with the Democrats).
Former Rep. Tammy Duckworth (D-IL) will replace Sen. Mark Kirk (R-IL), and New Hampshire Gov. Maggie Hassan (D) will take over Sen. Kelly Ayotte's (R-NH) seat.
California Attorney General Kamala Harris (D) will replace retiring Sen. Barbara Boxer (D-CA).
Former Rep. Todd Young (R-IN) will replace Sen. Dan Coats (R-IN).
Former Rep. Chris Van Hollen (D-MD) will replace retiring Sen. Barbara Mikulski (D-MD).
Former Nevada Attorney General Catherine Cortez Masto (D) will replace retiring Senate Minority Leader Harry Reid (D-NV).
Sen. Mitch McConnell (R-KY) will remain majority leader and Sen. Charles Schumer (D-NY) will become minority leader, replacing Reid.
With regard to the Senate Homeland Security and Governmental Affairs Committee, Sen. Ron Johnson (R-WI) will remain chairman and Sen. Claire McCaskill (D-MO) will replace Sen. Tom Carper (D-DE) as ranking member.