Legislative Updates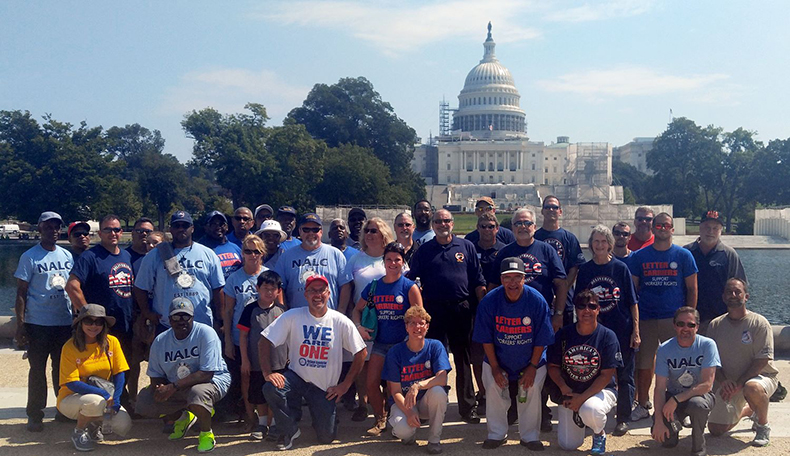 On Sept. 8, dozens of NALC members from several states joined joined NALC President Fredric Rolando, other national officers and Headquarters staff members, and thousands of other union members in solidarity with the members of the United Mine Workers Association (UMWA) on the front steps of the United States Capitol and called on Congress to pass the Coal Healthcare and Pensions Protection Act (H.R. 2403) and the Miners Protection Act (S. 1714). Unless Congress acts quickly, mineworkers and their families will lose their health insurance and face reduced retirement benefits before the end of the year.
"Over 22,000 mineworkers are at risk if Congress doesn't prevent the UMWA Health and Retirement Fund from collapsing," NALC President Rolando said. "Our brothers and sisters can't afford for their country to break its promise after a lifetime of hard work."
President Harry Truman first signed into law the UMWA Health and Retirement Fund, dedicated to caring for those who spend their working lives underground in one of the most dangerous occupations. In 1992, President George H.W. Bush reaffirmed this commitment by signing the Coal Act into law, requiring coal companies to contribute to pension plans for all covered retired employees.
Many mine workers face lung cancer, respiratory diseases and other complex chronic conditions, yet the average mineworker receives just $530 in retirement benefits each month. Consequently, many struggle to stay financially afloat while keeping up with the burden of medical care. As coal companies have continued to declare bankruptcy—increasingly so over the last four years—many miners have witnessed shrinking pension and health accounts.
"Letter carriers stand in solidarity with the mineworkers who produced the energy that has fueled our prosperity," Rolando said. "The federal government made a solemn promise to provide mineworkers with a secure retirement, and we rise to hold them accountable to that pledge."
Both bills are currently awaiting approval from House and Senate committees before they can be considered by both chambers.