Legislative Updates
On Nov. 17, the Senate Homeland Security and Governmental Affairs Committee approved the reappointment of Robert Taub and Mark Acton as commissioners of the Postal Regulatory Commission (PRC). Both candidates' reappointments now head to the full Senate for consideration.
The PRC's responsibilities include preventing anticompetitive practices, promoting accountability, adjudicating complaints, setting postal rates and helping oversee delivery service standards.
Taub has served on the PRC since 2011 and Acton was first appointed in 2006. Both have long and distinguished histories of public service interwoven with the Postal Service. Taub previously worked in the Government Accountability Office (GAO), served as chief of staff to former Rep. John McHugh and was a senior assistant to the Secretary of the Army. He currently presides as the acting chairman of the PRC.
Acton worked in numerous positions with the Republican National Committee for more than two decades, including as staff director for the Counsel's Office and Government Relations. Before his confirmation as a PRC commissioner, Acton was the special assistant to its chairman.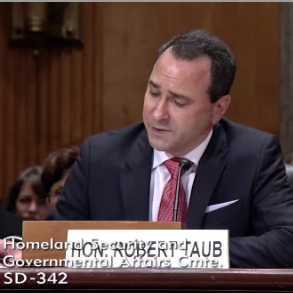 During the reappointment hearing on Nov. 15, Taub said there is an immediate need to address the Postal Service's retiree health benefit pre-funding burden, and he noted that USPS has been unable to meet its service standards across all delivery types. He also described the PRC's upcoming statutorily mandated 10-year review of the Postal Service's price cap system to be "its most important work in its 47-year history."
"Considering that the Postal Service's consecutive net losses since 2007 has increased its cumulative net deficit to more than $47 billion, the importance of this review cannot be overstated," Taub said. "With the growing liability of retiree health benefits, the inability to borrow for needed capital investments, and the continued loss of high margin First-Class Mail revenues, the important task of improving the financial condition of the Postal Service is daunting."
Sen. Heidi Heitkamp (D-ND) asked both candidates for a commitment to balance the Postal Service's finances with strong service standards. "If you cut service standards to the point where you aren't delivery anything," Heitkamp said, "that will just continue this spiral [of financial instability.]"
Both Taub and Acton promised their dedication to maintaining and improving delivery standards.
Acton also noted that each of the current commissioners were from states with large rural populations. Consequently, Acton said that delivery standards, particularly to rural communities, were at the forefront of commissioners' minds in every decision they made.