About the Mutual Benefit Association
From its earliest years...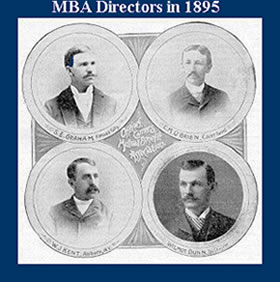 ...the NALC pioneered programs for mutual support and welfare to complement its struggles for improved working conditions. The union established the Mutual Benefit Association at its 1891 convention in Detroit. The MBA offered life and other kinds of insurance to help protect letter carriers and their families.
While speaking at NALC's 1891 National Convention in Detroit, MBA's founding fathers reaffirmed NALC's fundamental goal of uniting for the benefit of NALC members and their families. MBA, they said, was designed to advance that goal by offering union members life and other kinds of insurance for the protection of themselves and their families. One year later, MBA was granted a charter in the state of Tennessee.
In its early years, MBA offered a simple death benefit policy that letter carriers could purchase for a modest fee. This early policy was an extremely important feature of the MBA because the federal government did not provide death benefits for postal employees, a fact which, all too often, left a carrier's family without any income when the carrier died.
Prompted by this grim fact, the National Ladies Auxiliary, an increasingly influential association of women from letter carrier families, began urging its members to purchase life insurance from the MBA. At the same time, branch "collectors," forerunners of today's MBA representatives, went to work signing up other NALC members for MBA insurance protection.
In 1905...
...NALC members in attendance at the National Convention in Portland, Oregon, voted to expand the role of MBA to include the National Sick Benefit Association (NSBA) so that NALC could provide sick benefits to letter carriers who found themselves out of work due to accident or illness. Since most of the large branches had already set up their own sick benefit plans, NSBA was organized primarily for members in smaller branches. At the time of its inception, premiums for NSBA insurance were between 50 and 80 cents per month and benefits averaged $8 per week for up to 20 weeks.

By the time of NALC's 1935 convention, MBA had already earned a reputation for its "stability and great usefulness." Even during the hard years of the Depression, the MBA benefit fund grew substantially, recording growth in assets of more than 58 percent between the years 1927 and 1935.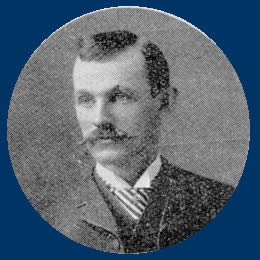 Wilmot Dunn, of Nashville, entered the carrier service in 1880 as a mounted auxiliary carrier, and subsequently carried a city delivery route in the most important business district of Nashville.
Present at the 1889 founding meeting of the NALC in Milwaukee, Dunn was a tireless early organizer of the NALC. He was a member of the committee which developed the framework of the Mutual Benefit Association and became its first Chief Collector, a position he held until 1915.
In 1953...
...the administrative offices of MBA were moved from Nashville to 100 Indiana Avenue NW in Washington, DC where, in 1952, NALC had established its permanent headquarters. Permission for the move was granted by the Commissioner of Insurance of the State of Tennessee.
<p >Two years later, the Insurance Department of the State of Tennessee also permitted MBA/NSBA to begin writing accident, health, and hospitalization coverage, a decision which ultimately led to greater authority for NSBA, and to the birth of NALC's Health Benefit Plan as it is known today.<p >MBA's continued success in the 1950s, '60s, '70s and beyond stemmed largely from the efforts of its "collectors," local branch members who collected money from members to pay the premiums on their MBA policies. These collectors, later renamed MBA Representatives, were also responsible for receiving applications for membership to the MBA.
In 1977...
...the Mutual Benefit Association redefined the role of the MBA Representative from one of collector to one of liaison between branch members and MBA's home office. Armed with complete knowledge about every MBA insurance program, MBA Representatives became every member's source for MBA information. Today, there are over 400 MBA Representatives located in branches all over the country.
By the time the 1980s rolled around, MBA had an impressive record of financial stability, as well as the ability to grow and respond to the changing needs of NALC members. In his Biennial Report to NALC's 56th Convention in Portland, Oregon, Director of Life Insurance, William M. Dunn, Jr., described MBA's growth as "most favorable." Indeed, between the years 1982 and 1987, MBA's assets increased by a whopping 84.4 percent, with premium income increasing by 114.2 percent.
In 2008...
Beginning in 2007, the MBA began investing a small portion of its portfolio, approximately 10 percent, into equities. This investment was implemented through the purchase of SPDR Trust Certificates, commonly known as SPYders. These SPYders enable the MBA to achieve diversified exposure to the broad based S&P 500 through the purchase of a single instrument. While it is recognized that the equity markets have historically demonstrated greater volatility than the bond market, the Investment Advisor believes that the low correlation of returns between stocks and bonds will actually reduce the volatility of returns in the MBA's total portfolio.
In 2009...
...the MBA revised its product offerings to become compliant with the 2001 CSO (Commissioners Standard Ordinary Mortality) table. This allowed for the general lowing of the MBA's premium rates due to the increases in expected mortality ages. The MBA also began offering a death benefit of up to $100,000 per insured life on its life insurance products.
Today...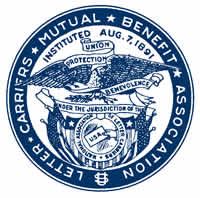 ...MBA continues to record strong year after strong year. Total assets continue to increase over previous years by millions of dollars, and surplus increases by hundreds of thousands. Despite the stock market decline, MBA was continuing to outperform other life insurance companies, just as it had done for more than 100 years.
Today, the MBA has over $224 million of life insurance in force and can claim over $194 million of admitted assets. The organization continues to serve letter carriers and their families nationwide—not only by providing insurance protection, but through other activities as well. Thanks to the unfailing support of its members and the expert guidance of its Board of Trustees, MBA can easily look forward to another 100 years of success.