NALC Member App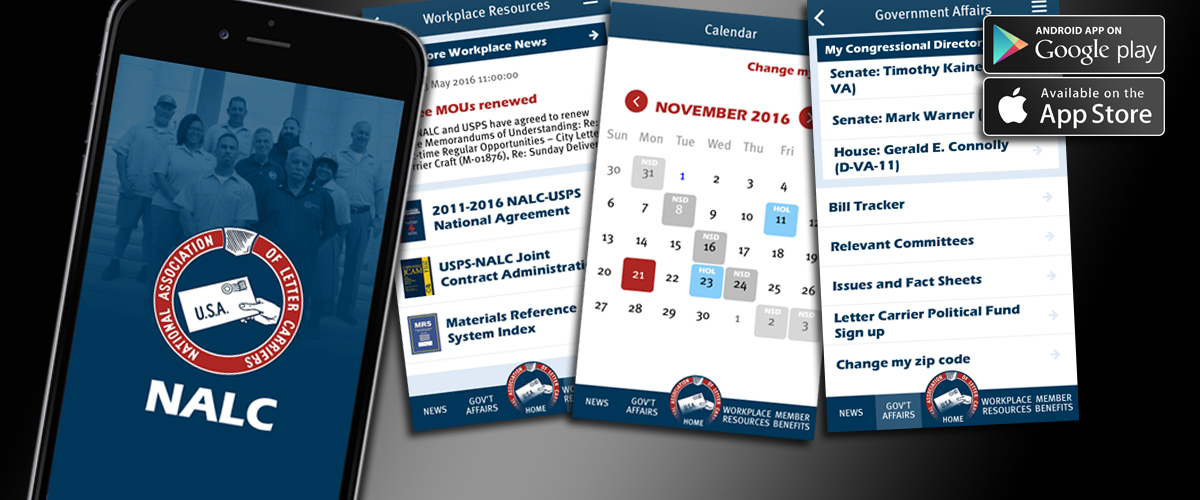 As technology increases our ability to communicate, NALC must stay ahead of the curve. From websites to email to social media, this union has continually developed the tools to put the most up-to-date information and resources into the hands of our stewards and members. We've now taken the next step with the NALC Member App for iPhone and Android smartphones. The app was developed at headquarters with the needs of the average member in mind.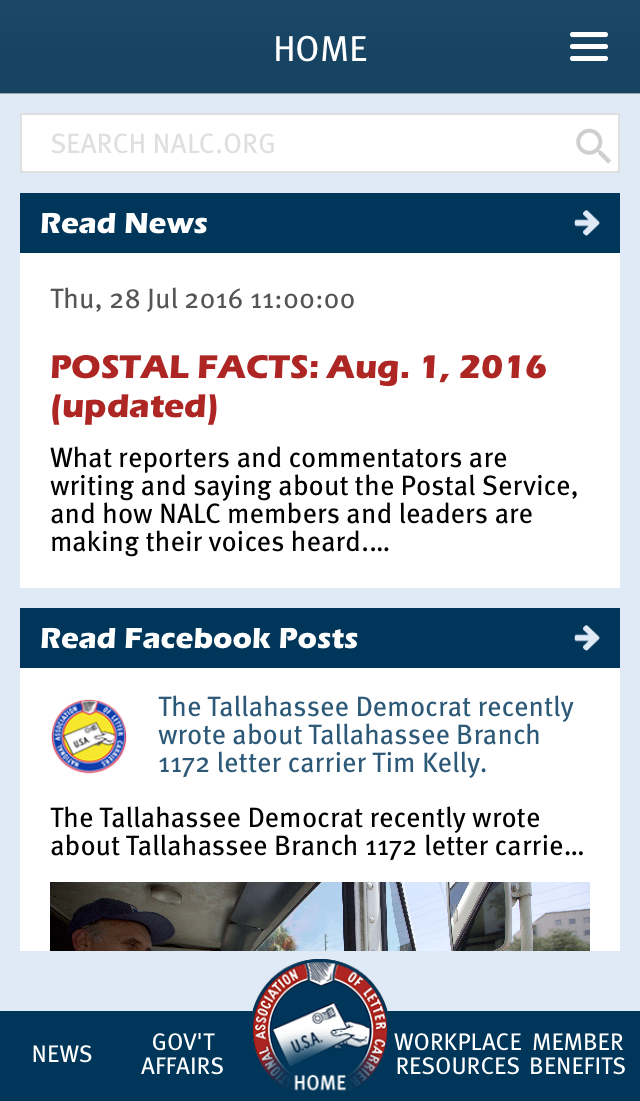 The app contains links to workplace resources, including the National Agreement, the JCAM, the MRS, CCA resources and more. It also includes legislative tools, such as a bill tracker, an individualized list of your congressional representatives and PAC information. And one of the coolest features: an Interactive Non-Scheduled Days calendar.
When you install the app, it'll ask you for your home ZIP Code, so it can give you the correct legislative information. You then sign up for notifications based on your interests.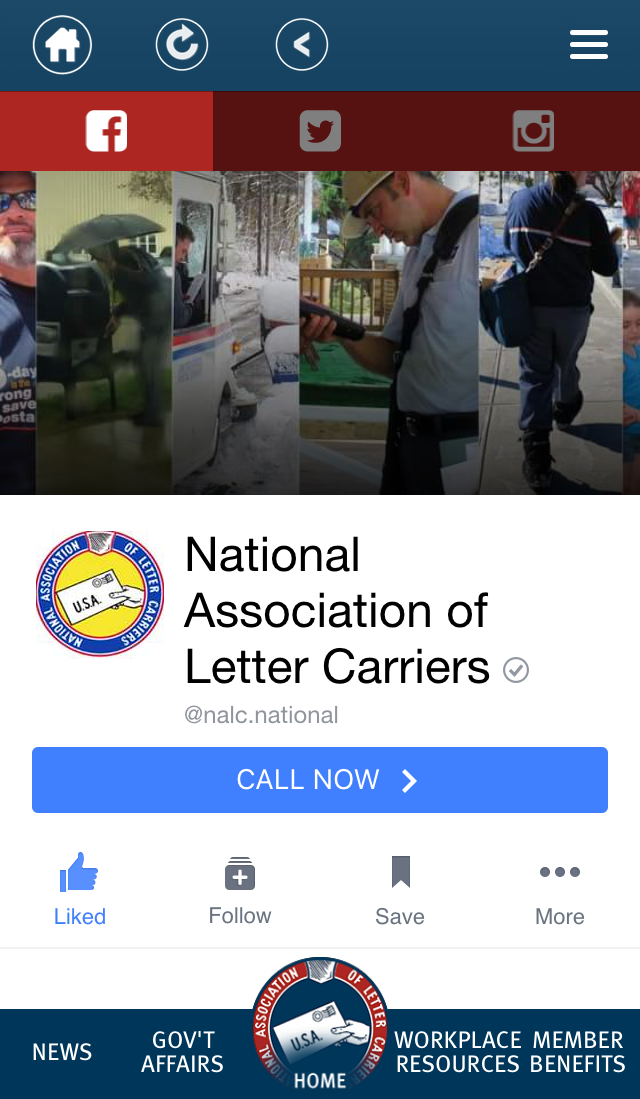 We know that every member is unique and how you interact with the union is just as unique. Some members are involved in enforcing the contract. Some are involved in the legislative and political process. Some solely participate in the food drive. Whatever your interests, click them here and when there is news about these interests, we'll send personalized push notifications to your device.
The home screen is where you'll see the latest news and social media posts from facebook and twitter. Read them, like them, share them, retweet them. This is your social media.
From there, click on the news tab, to see all the latest news items from nalc.org.
For those interested in the union's legislative and political agenda, the government affairs section has tools for you. From "my congressional directory," you can see if your House member and senators have sponsored postal-friendly legislation or if they're on a committee important to the fight for postal reform. From the bill tracker, you can read NALC's stance on bills in Congress, how many cosponsors they have and more. We've also put buttons for fact sheets and legislative information, so you can know everything there is to know about these bills before speaking to your members of Congress. And of course, we've made it easy for you to let us know you'd like to sign up for the Letter Carrier Political Fund.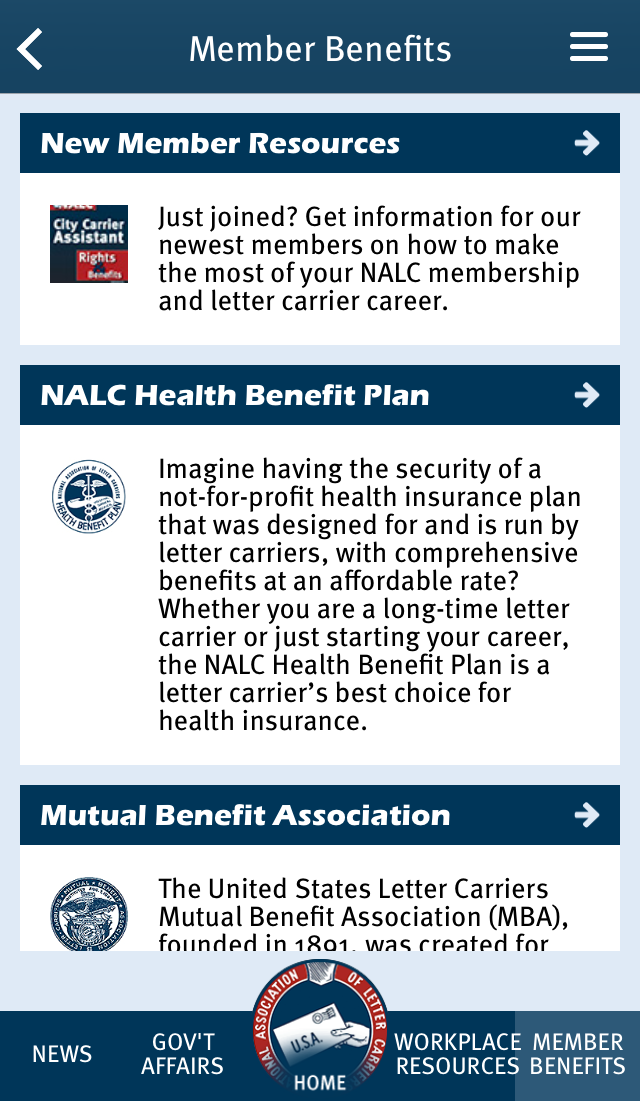 We've also made it easy to access workplace resources, by clicking on that tab. From here you can open the National Agreement, the JCAM, the MRS, the M-39, the M-41, the ELM, the CCA Resource Guide, COLA and paycharts and so much more.
There's also a tab for member benefits. Learn about the Health Benefit Plan or the Mutual Benefit Association, find resources for new CCAs, contribute to the Postal Employees Relief Fund, join the Veterans Group and more.
Click the menu and you can find all sorts of other resources, from social media, to how to get in touch with your NBA's office. But one resource that is sure to be a favorite of carriers is the calendar.
Most rotating calendars don't take into account holidays or they only give you one-year's worth of NSD dates. This app resolves all of that. Whether you have a rotating or fixed schedule, you can see your nonscheduled days for years in advance, if you want. And when your NSD lands on a holiday, the app shifts the holiday designation to the correct day, meaning you'll know exactly how many days you have unscheduled. The calendar is also linked to the NALC Google calendar, so you'll see important dates marked in red.
The app is free and available in the Apple App Store or the Google Play Store. Just search for NALC Member App.
NALC is committed to using this technology to help letter carriers.
---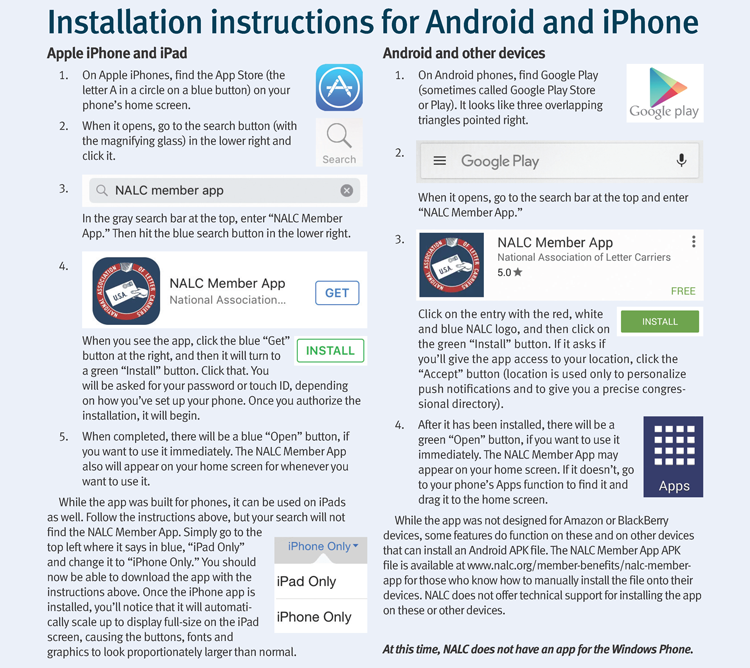 Download these instructions as a PDF
If you do not have a smartphone or if you would prefer to receive legislative updates by e-mail, please call NALC Mobilization Director Ed Morgan at 202-662-2833.
Privacy Policy
Mobomo built the NALC Member App app as a Free app. This SERVICE is provided by Mobomo at no cost and is intended for use as is.
This page is used to inform visitors regarding our policies with the collection, use, and disclosure of Personal Information if anyone decided to use our Service.
If you choose to use our Service, then you agree to the collection and use of information in relation to this policy. The Personal Information that we collect is used for providing and improving the Service. We will not use or share your information with anyone except as described in this Privacy Policy.
The terms used in this Privacy Policy have the same meanings as in our Terms and Conditions, which is accessible at NALC Member App unless otherwise defined in this Privacy Policy.
Information Collection and Use
For a better experience, while using our Service, we may require you to provide us with certain personally identifiable information, including but not limited to zip code, device id. The information that we request will be retained by us and used as described in this privacy policy.
The app does use third party services that may collect information used to identify you.
Link to privacy policy of third party service providers used by the app
Log Data
We want to inform you that whenever you use our Service, in a case of an error in the app we collect data and information (through third party products) on your phone called Log Data. This Log Data may include information such as your device Internet Protocol ("IP") address, device name, operating system version, the configuration of the app when utilizing our Service, the time and date of your use of the Service, and other statistics.
Cookies
Cookies are files with a small amount of data that are commonly used as anonymous unique identifiers. These are sent to your browser from the websites that you visit and are stored on your device's internal memory.
This Service does not use these "cookies" explicitly. However, the app may use third party code and libraries that use "cookies" to collect information and improve their services. You have the option to either accept or refuse these cookies and know when a cookie is being sent to your device. If you choose to refuse our cookies, you may not be able to use some portions of this Service.
Service Providers
We may employ third-party companies and individuals due to the following reasons:
To facilitate our Service;
To provide the Service on our behalf;
To perform Service-related services; or
To assist us in analyzing how our Service is used.
We want to inform users of this Service that these third parties have access to your Personal Information. The reason is to perform the tasks assigned to them on our behalf. However, they are obligated not to disclose or use the information for any other purpose.
Security
We value your trust in providing us your Personal Information, thus we are striving to use commercially acceptable means of protecting it. But remember that no method of transmission over the internet, or method of electronic storage is 100% secure and reliable, and we cannot guarantee its absolute security.
Links to Other Sites
This Service may contain links to other sites. If you click on a third-party link, you will be directed to that site. Note that these external sites are not operated by us. Therefore, we strongly advise you to review the Privacy Policy of these websites. We have no control over and assume no responsibility for the content, privacy policies, or practices of any third-party sites or services.
Children's Privacy
These Services do not address anyone under the age of 13. We do not knowingly collect personally identifiable information from children under 13. In the case we discover that a child under 13 has provided us with personal information, we immediately delete this from our servers. If you are a parent or guardian and you are aware that your child has provided us with personal information, please contact us so that we will be able to do necessary actions.
Changes to This Privacy Policy
We may update our Privacy Policy from time to time. Thus, you are advised to review this page periodically for any changes. We will notify you of any changes by posting the new Privacy Policy on this page. These changes are effective immediately after they are posted on this page.
Contact Us
If you have any questions or suggestions about our Privacy Policy, do not hesitate to contact us.
This privacy policy page was created at privacypolicytemplate.net and modified/generated by App Privacy Policy Generator