Breast cancer awareness T-shirt
October is National Breast Cancer Awareness Month and NALC has produced a new T-shirt for NALC members to show their support.
This cool black T-shirt has a custom pink design that encourages everyone to "Carry on the Fight" against the second leading cause of death among women.
The back identifies the National Association of Letter Carriers, "Established 1889."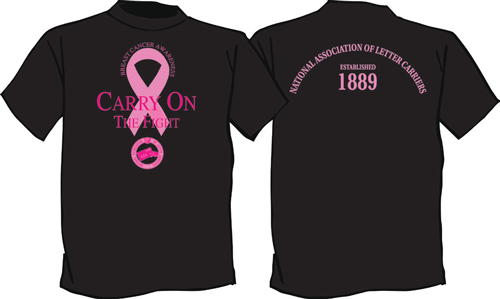 The shirts come in sizes from large to 4XL (sizes small and medium have sold out) and are available to order from NALC's Supply Department at NALC Headquarters by mailing your payment of $15 per shirt to the NALC Supply Department, 100 Indiana Ave. NW, Washington, DC 20001-2144, or by calling 202-393-4695 to order by phone.
There is a $10 minimum for all credit-card orders.