NALC's Place in the Sun
There's a strong sense of community at Nalcrest. Located in Central Florida about 70 miles east of Tampa just south of Route 60, Nalcrest is about midway between the Gulf Coast and Vero Beach on the Atlantic Coast. Its 500 apartments are clustered in 66 one-story buildings spread over 153 acres around two large lagoons popular with residents who fish and boat. Another 150 acres of undeveloped land surrounds the complex.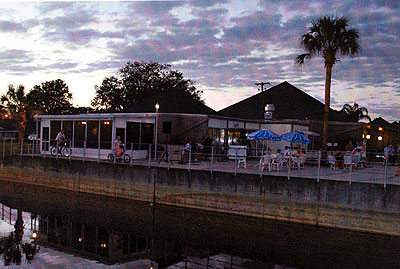 Edged with the oaks dripping Spanish moss, 15-square-mile Lake Weohyakapka adjoins Nalcrest. The impression is of a community set inside a nature preserve.
Lake Weohyakapka (Walk-in-the-Water) forms the backdrop of Nalcrest's recreation area and sports complex, named for NALC President Emeritus Vincent R. Sombrotto. Residents enjoy the heated, Olympic-size swimming pool and hot tub year-round, as well as shuffleboard, horseshoes, basketball, bocce, miniature golf and tennis. The softball field and driving range are located further from the lake.
Use of the Nalcrest fitness center is free, and it contains a lot of equipment residents brought with them without realizing they didn't have room for it in their apartment. Ttwo different exercise classes meet twice weekly—one in the pool and the other in Brennan Hall.
Bingo is very popular and attracts more than 200 players every Monday evening. Profits are used for charitable works in the Nalcrest community.
Clubs of every description bring like-minded residents together for project planning, instruction, community service or just socializing. The Nalcrest Ladies Club, for instance, organizes newspaper recycling, greets newcomers and celebrates major birthdays and anniversaries. Creative residents find self-expression with the Palette Pals, a club that meets Monday afternoons, as well as free art classes on Wednesday morning led by a local artist.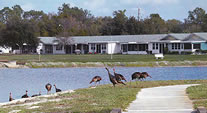 Nalcrest's Travel Club arranges trips of various lengths at rock-bottom prices. Someone suggests a destination and if there's general agreement they get more information and put a proposal together. Then they post a sign-up list for the community. No one makes a profit or goes free—those savings are passed on to the group so everyone goes a little cheaper.
Excursions range from more than a week to several days in Las Vegas or Biloxi for gambling, to half days at the dog track or dinner theater.
Doherty's dream come true
Dances, bingo and club meeting are among the activities held in the 500-seat William C. Doherty Auditorium, named for the NALC president committed to making Nalcrest a reality. After serving in NALC's top post from 1941 to 1962 and then as the first U.S. ambassador to Jamaica, Doherty moved into a Nalcrest apartment and stayed there until just before his death in 1987.
Bill Doherty turned the first shovel of earth on July 1, 1962, and Nalcrest—it stands for National Association of Letter Carriers Retirement, Education, Security and Training—began to take shape in central Florida.
Down the road is one of only a handful of union-built communities in the country, but Fedhaven went bankrupt years ago. No so for Nalcrest, which remains nonprofit. In 2002, the Nalcrest Foundation made its final mortgage payment and is no longer under U.S. Department of Housing and Urban Development regulations.
Because of HUD rules Nalcrest was open to everyone, not just NALC members. Now it is open to NALC members in good standing only. So be sure to keep paying your union dues after retirement! Currently about 80 percent of the 800 residents are letter carriers or married to letter carriers.
Nalcrest's low rents contribute to its popularity, and there is a waiting list for vacant apartments. Efficiency, one-bedroom and two-bedroom apartments are available, ranging from $395 to $520 per month.
Interested members are encouraged to come for a look or, better yet, to stay at one of the branch apartments that are for rent.
Close to Utopia
Town Center is home to Nalcrest's management office and a cluster of conveniences, including a post office, laundromat, small market, restaurant, barbershop, hair salon and chapel. Residents tend the lending library for books and videos, and there is also a game/billiards room and TV lounge.
Watching over the activity is the statue of Richard F. Quinn, president of the NALC in 1895. Depicted proudly in uniform, Quinn stands as a symbol of all letter carriers; but he is also the community's "official" letter carrier by default—city delivery doesn't serve the area. Residents receive mail at their post office box located in the Post Office in the Town Center.
Photo tour of a one-bedroom apartment
Living Room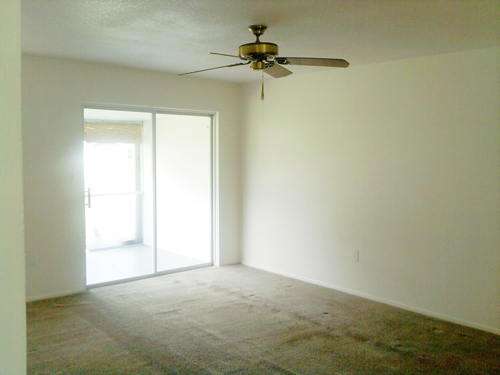 Kitchen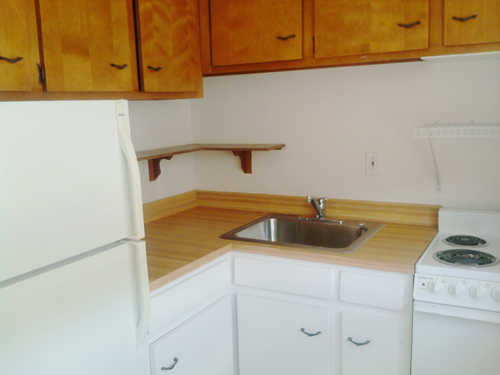 Bedroom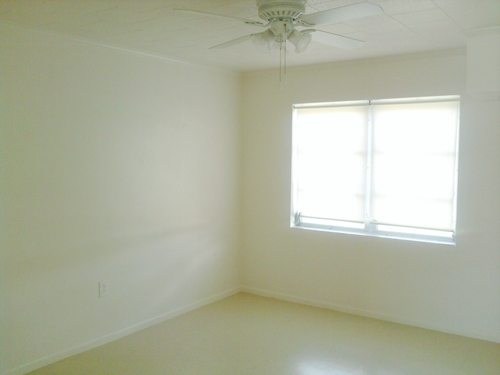 Bathroom