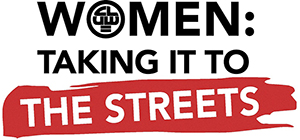 Observers are invited to attend the 19th biennial convention of the Coalition of Labor Union Women (CLUW), Sept. 6-9 at Detroit's Marriott at the Renaissance Center.
The theme for the convention is "Women: Taking it to the streets."
The women's movement and the labor movement are facing some of the biggest challenges in history, with battles on every front. The convention will provide an opportunity to engage those in the labor movement—and friends who are not part of the labor movement—and to form strong coalitions to fight back against those forces that are trying to diminish the power and eliminate the gains women have struggled to achieve.
There also will be workshops on a variety of topics, dynamic speakers and inspirational sessions.
CLUW has a proven success rate of mobilizing around causes important to the entire labor movement. Most recently, CLUW has been working with its Young Women Workers Committee on mobilizing the next generation.
San Francisco Branch 214's Victoria Sawicki sits on CLUW's officers council as one of the organization's vice presidents.
CLUW is making a difference but it needs your help.
Click here for registration information for deadlines and fees.