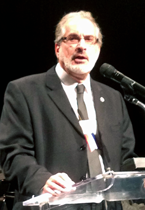 Speaking on Sept. 11 to the delegates to the 2013 AFL-CIO convention, NALC President Fredric Rolando informed those gathered inside the Los Angeles Convention Center of the Postal Service's actual financial situation.
"Don't believe what you read in the papers," Rolando said. "The Postal Service is not losing $15 billion a year. In fact, it's earning a profit delivering the mail, bringing in $330 million so far this fiscal year."
Rolando spoke in support of a convention resolution calling for the AFL-CIO and its affiliated unions to help the postal unions win postal reform that will help the Postal Service innovate and grow, and to help us defeat legislation that would slash jobs and service. The resolution was adopted by acclamation.
The president also warned the delegates about congressional proposals to eliminate Saturday mail and door delivery of the mail.
"Every day, our members are out delivering the mail in rain, snow and sleet," Rolando said. "But if Congress has its way, your grandmother will be forced to go out in all kinds of weather to get the mail herself."
Rolando drew a shocked response from many delegates when he explained that the Postal Service is required by law to pre-fund its future retiree health benefits decades in advance, something no other government agency or private enterprise is required to do.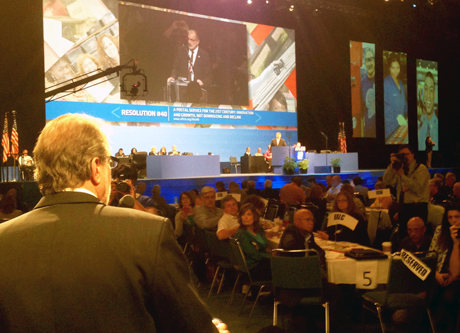 He explained to delegates just how outrageous this unaffordable mandate is, especially as the Postal Service—much as the rest of the country—struggles to recover from the worst recession in 80 years.
"Any reform bill that fails to fix the pre-funding burden will pave the way for a continued attack on the 500,000 postal employee members of the AFL-CIO and the vital services the provide for the country," Rolando said.
The convention resolution was drafted by NALC along with the National Postal Mail Handlers Union and the American Postal Workers Union. It was introduced to the delegates by J. David Cox, president of the American Federation of Government Employees and a member of the AFL-CIO's resolutions committee.
Cox made an impassioned speech in support of a strong Postal Service and of the hundreds of thousands of AFL-CIO members who work for the Postal Service; he received a standing ovation. NPMHU President John Hegarty and APWU delegate Omar Gonzalez also lent powerful support for the resolution, which was passed by acclamation.
Click here to read the resolution.
Photos by Elise Foster, Chicago Br. 11/NALC delegate to AFL-CIO convention