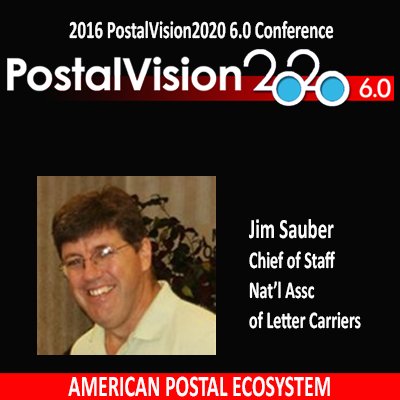 NALC Chief of Staff Jim Sauber participated in a six-person panel discussion this week at the annual PostalVision 2020 conference.
The conference, which took place in Pentagon City, VA, covered a wide-range of topics. Sauber's panel discussed the value of letter carriers to the Postal Service organization, the Postal Service's universal service, the emerging consensus on positive postal reform, international shipping developments and USPS pricing practices.
Sauber talked about the value of letter carriers, who are vital to the Postal Service's connection with 152 million delivery locations six—and now sometimes seven—days a week.
He also reiterated NALC's commitment to positive postal reform, and he emphasized that it was possible to put the Postal Service on firm footing for the future with the right set of reforms.

Sauber explained how nationwide universal service, and the ability to send a letter or parcel between any points on the postal network, is of great value to both urban and rural areas. He also provided some clarity on the financial situation of the Postal Service, highlighting the impact of the pre-funding requirement on postal finances, something that is responsible for 89 percent of USPS' net losses since 2006.
The panel included John Kane, senior governmental affairs advisor for Sen. Tom Carper (D-DE); USPS Acting Inspector General Tammy Whitcomb; Postal Regulatory Commission Acting Chairman Robert Taub; Joe Murphy from the U.S. State Department; and Government Accountability Office Director of Physical Infrastructure Lori Rectanus. The moderator for the panel was Jessica Lowrance of PostCom.