Balloting
Per Article 16 of the NALC Constitution, ratification of a proposed national agreement between NALC and the U.S. Postal Service shall be a mail referendum vote and the ballot shall be mailed only to regular members of the NALC as defined in Article 2, Section 1 (a), excluding non-letter carrier regular members as shown by the records of the national secretary-treasurer as of 90 days prior to the date that the proposed agreement is reached—which was May 12.
Didn't get a ballot?
The last of the ratification ballots for the tentative 2016-2019 National Agreement between NALC and USPS were mailed on June 26.
If you are eligible to vote on the proposed agreement and have not received a ballot by July 5, call NALC Headquarters at 202-393-4695 no later than 4:30 p.m. Eastern Time on July 14.
A replacement ballot will be mailed after your eligibility is verified.
Consistent with Article 2, Section 1 (a) of the NALC Constitution, retirees and Office of Workers' Compensation Program (OWCP) departees shall have no voice or vote in any matter pertaining to the ratification of a national working agreement.
Shortly after NALC's recent 2017 National Conference in Atlantic City, NJ (see below), every active letter carrier eligible to vote in the election to ratify the tentative 2016-2019 National Agreement between NALC and USPS was mailed a copy of the proposed pact. Included in the mailing was a letter from NALC President Fredric Rolando, a summary of the contract's provisions, a ballot and secrecy envelope, a return envelope and instructions for casting a vote.
For a ballot to be counted, it must be received by 11:59 p.m. on July 29.
The NALC Constitution provides that "membership acceptance or rejection of a proposed National Agreement shall be by majority of valid ballots returned by the voters." If the agreement is accepted, it will go into effect immediately. If the agreement is rejected, then, under the Postal Reorganization Act, the parties may continue bargaining or, ultimately, refer the dispute to an interest arbitration board. Under the law, decisions of the arbitration board are conclusive and binding upon the parties.
If any of the ballot materials described above are missing from your mailing, immediately call NALC Headquarters at 202-393-4695. (Note that the phone number printed in the mailed ballot instructions is incorrect.)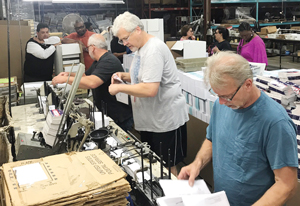 NALC's Ballot Committee monitored and observed as proposed agreements were mailed to voting members.
Ballot Committee
NALC President Fredric V. Rolando has appointed the Ballot Committee for the purpose of monitoring and observing the dispatch, receipt and tabulation of the ratification ballot for the tentative National Agreement reached between NALC and the U.S. Postal Service. The Ballot Committee is made up of 15 NALC members from branches in no fewer than 15 states. The members of the committee are:
Region 1: Barbara Stickler, Garden Grove, CA Branch 1100
Region 2: Phillip Rodriquez, Salt Lake City Branch 111
Region 3: Mack Julion, Chicago Branch 11
Region 4: Adam Fung, Aurora, CO Branch 5996
Region 5: Rod Holub, Manhattan, KS Branch 1018
Region 6: Robyn Williams, N. Oakland Co., MI Branch 320
Region 7: Caitlin Hill, Minneapolis Branch 9
Region 8: Antonia Shields, Birmingham, AL Branch 530
Region 9: Anthony Ali, Central Florida Branch 1091
Region 10: Vanessa Sanchez, San Antonio, TX Branch 421
Region 11: John Oross, Dayton, OH Branch 182
Region 12: Eryka Tolliver, Pittsburgh Branch 84
Region 13: Delano Wilson, Bowie, MD Branch 2611
Region 14: Christopher Henwood, Rutland, VT Branch 495
Region 15: Joe De Rossi, Jamaica, NY Branch 562
The Ballot Committee arrived in Washington, DC, on June 19 to monitor and observe the mailing of the ballots.
2017 National Conference (aka 'rap session')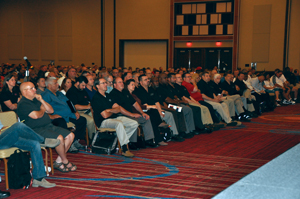 So that the tentative National Agreement could be fully discussed with branch and state leaders prior to the ratification voting, the 2017 National Conference—better known as a "rap session"—was held June 14 at Harrah's Resort in Atlantic City, NJ. National rap sessions for state and branch presidents/designees are authorized in non-convention years by the NALC Constitution under Article 3, Section 4 (b).
The rap session was used to educate branch leaders about the proposed contract. It's hoped that this will give all NALC members the opportunity to attend a branch meeting following the rap session to learn about the tentative agreement and to get questions answered prior to submitting ratification ballots.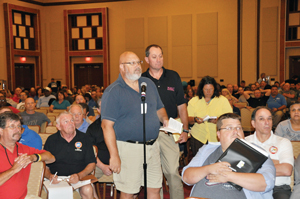 The rap session itself was held on the morning of Wednesday, June 14. Workshops were conducted on Wednesday afternoon and repeated in the morning on Thursday, June 15. There were two three-hour workshops held simultaneously on Wednesday afternoon, each covering various topics of interest and importance to branch and state leaders. Those same workshops were repeated on Thursday morning so all attending the rap session had a chance to hear all of the information covered.
Click here to read conference coverage in the NALC Bulletin: Part 1 | Part 2