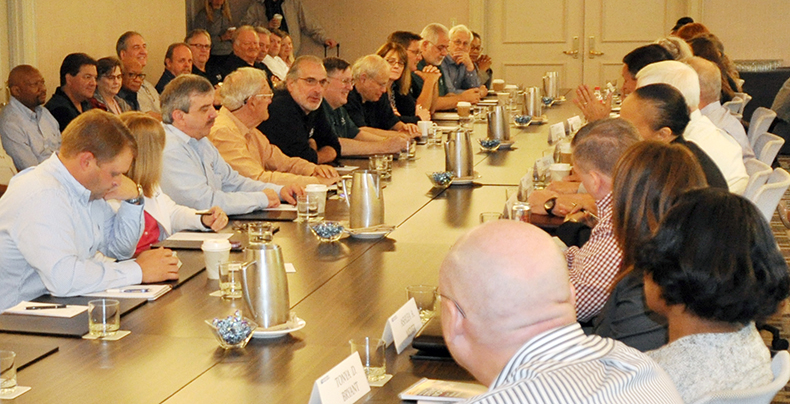 The full negotiating teams of the National Association of Letter Carriers and the U.S. Postal Service convened this morning in a downtown Washington, DC, hotel to open a final week of collective bargaining prior to the expiration of the 2011-2016 National Agreement this Friday, May 20, at midnight.
NALC's team consists of the 28 members of the union's Executive Council, which was called into session on Sunday evening to discuss plans for the final week of contract talks.
NALC President Fredric Rolando set the agenda for the week on Monday: Full, undivided and intense attention to the goal of reaching a contract addressing the wages, benefits and working conditions for America's 205,000 active city letter carriers.
Postal Service Vice President for Labor Relations Doug Tulino, the agency's principal spokesman in the negotiations, attested to USPS' dedication to the same goal.
For the past 11 weeks, in addition to main table discussions on key economic provisions, the parties have been working in several subcommittees to address specific provisions of the National Agreement. Those subcommittees will continue to work during the week, the second of two scheduled weeks of sequestered negotiations. The first week took place in March.
On Monday, President Rolando issued the following statement:
The work of negotiating a mutually acceptable contract between 205,000 city letter carriers and an employer of the size, complexity and unique character of the USPS is a daunting task. Both sides are committed to make their best good-faith efforts to reach a settlement by Friday at midnight. That is our intention.
Should more work remain to be done, and should we need more time, we will have a process in place to continue our negotiations beyond the Friday deadline.
So long as there is a path to success, we will pursue a negotiated contract without resorting to mediation or interest arbitration.
Of course, by law, there will be no work stoppage or interruption of operations. And our existing labor contract will remain in effect until a new contract is either negotiated or arbitrated.
Both sides are firmly committed to the same end product: A full and fair contract, fully and fairly reached, for America's most trusted workers.