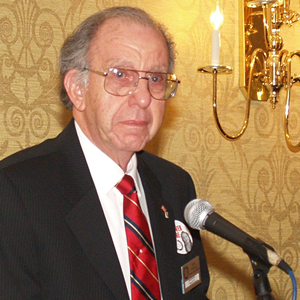 Florida State Association of Letter Carriers President Emeritus John Giordano died on Oct. 2.
Giordano was born in Staten Island, NY. His grandfather founded Jordan's Bakery, a Staten Island institution, and on Saturdays, John helped his father deliver bread—the beginning of John's lifelong work of delivery to the public.
He was a combat veteran in the Korean War, and following his honorable discharge, he began a life-long career as a letter carrier and member of NALC's South Florida Branch 1071.
In 1981, Giordano was elected president of the Florida state association, a position he held for a record 28 years. This past July, the state association passed a resolution at its convention to grant Giordano the title of president emeritus.
Giordano is survived by wife of 61 years, Barbara; a son, John III; a daughter, Julia; and two grandsons. A funeral mass will be held on Oct. 22 at 1:15 p.m. at Annunciation Catholic Church, 1020 Montgomery Road, Altamonte Springs, FL. A reception will follow in the church hall.
In lieu of flowers, please send contributions to Hospice of the Comforter, 480 West Central Parkway, Altamonte Springs, FL 32714.