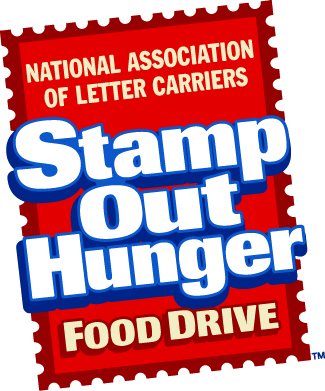 Scores of NALC branches around the country are now registering for the 26th annual Letter Carriers' "Stamp Out Hunger"® Food Drive.
The Food Drive—the country's largest one-day food-collection event—takes place on the second Saturday of May. This year, that's Saturday, May 12.
"Registering for the drive is easy," NALC President Fredric Rolando said, "and it's always a good idea to get that part out of the way quickly so you can focus more attention on recruiting volunteers and generating enthusiasm in your branch."
Register via the NALC website's "Members Only" portal. Find the link to the "Members Only" portal at nalc.org in the upper right-hand corner of the page. Once you've logged in, click on the "Stamp Out Hunger" icon to register. Branches also can use the portal to order promotional materials. If you are a newly elected president, make sure that your branch has notified Headquarters. Only branch presidents of record will have access to the food drive registration forms.
Remember, the deadline to register is March 1.
In February, Rolando will mail letters to branches that have not yet registered, encouraging them to get involved with this year's drive. A registration form will be included with the letter, for the convenience of those who aren't yet comfortable with signing up electronically.
Stay on top of the latest food drive news at nalc.org/food, and follow the Food Drive on Facebook at facebook.com/StampOutHunger and on Twitter at @StampOutHunger.