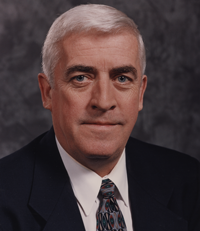 Former NALC Director of Life Insurance Michael J. O'Connor died on Feb. 28. He was 77.
O'Connor was born on June 20, 1939, in South Boston. A 1957 graduate of South Boston High School, he served in the Army before becoming a letter carrier. He was hired in 1969 by what was then the Post Office Department and quickly joined Boston Branch 34. He held several branch offices, such as shop steward, branch newsletter publisher, secretary-treasurer and president. He also served a term as president of the Massachusetts State Association of Letter Carriers and as one of NALC's elected delegates to AFL-CIO conventions.
O'Connor was elected in 1986 to be one of NALC's national trustees. In 1993, midway through a second term as trustee, he was appointed by NALC President Vincent Sombrotto to the office of assistant secretary-treasurer to fill a vacancy; a year later, O'Connor was elected to the first of two terms as director of life insurance, heading NALC's Mutual Benefit Association. He stepped down from that position in 2002.
O'Connor was preceded in death by his wife, Helen, on Jan. 10. He is survived by three sons, seven grandchildren and numerous nieces and nephews.
Visitation will take place on March 2 from 4 p.m. to 8 p.m. at Keohane Funeral Home in Quincy, MA.
A celebration of life service will be held on March 3 at 9:15 a.m. at the funeral home, followed by a funeral at St. Ann's Church in Quincy at 10 a.m.
In lieu of flowers, the family requests that donations be mailed to the Wounded Warrior Project, P.O. Box 758517, Topeka, KS 66675.
Click here to visit keohane.com for more information.