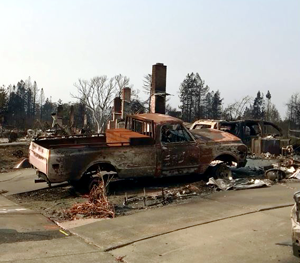 Recently, NALC members in California lost their homes during the devastating wildfires in Sonoma and Napa counties.
The firestorm hit Santa Rosa, CA, early on Monday, Oct. 9, with the fire jumping across a six-lane freeway and igniting an entire neighborhood. Many areas of Sonoma County were affected in the week that followed.
At last count, 10 NALC members lost their homes. Many more evacuees may have property damage.
Santa Rosa Branch 183 has set up a dedicated fund to help the affected members—active and retired—get back on their feet.
If you would like to help, please mail donations to 2017 Fire Relief Fund, in care of Santa Rosa Branch 183, 888 3rd St., Santa Rosa, CA 95404-5429.
Branch 183 will work with Ukiah Branch 1563 and Napa Branch 627 to determine whether any of their members lost their homes and how they might also receive help.
For more information, call Branch 183 President Jerry Andersen at 707-318-1821 or send an e-mail to jerry183@sonic.net.