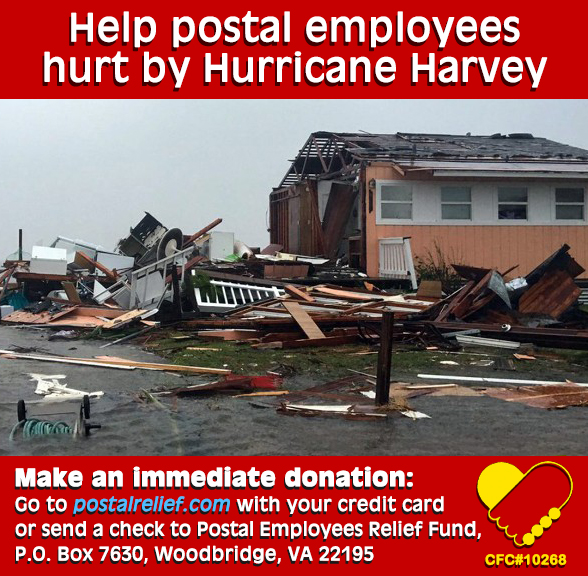 You can help postal employees hurt by Hurricane Harvey right now by making an immediate donation to the Postal Employees' Relief Fund (PERF).
Visit postalrelief.com to make an immediate donation with your credit card.
You can also mail a donation check to:
Postal Employees' Relief Fund
P.O. Box 7630
Woodbridge, VA 22195
PERF helps postal employees and retirees whose homes were significantly damaged by natural disasters or house fires.
PERF is not an emergency relief or immediate needs replacement agency such as the Federal Emergency Management Agency (FEMA) or the Red Cross or insurance companies that are paid to replace property.
Rather, PERF (Combined Federal Campaign #10268) provides relief grants to help qualifying individuals get re-established after a loss, based on an application process.
Visit postalrelief.com to learn more.
Postal uniforms/footwear/rain gear
You can send slightly used or new postal uniforms, footwear and/or rain gear to the following branches that can act as hubs for uniforms for the surrounding branches/letter carriers:
Houston Branch 283
c/o Harvey Help
2414 Broadway Blvd.
Houston, TX 77012
Corpus Christi Branch 1259
c/o Harvey Help
1220 S. Alameda
Corpus Christi, TX 78404
NALC Region 10's office will do its best to assist these branches with distribution. Other affected branches can get in touch with the Region 10 office for help in getting affected letter carriers what they need.