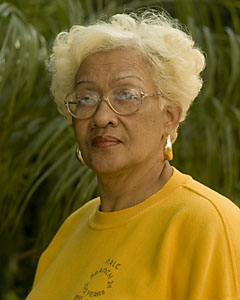 NALC is deeply saddened to learn of the death of member Jacqueline "Jackie" White on Jan. 8, 2022.
Jackie started her career as a letter carrier in 1978, and she was a retired member of Los Angeles Branch 24. During more than 40 years of NALC membership, Sister White served the union in several different positions at the local, state and national levels. She was a longtime shop steward and served as a District 6 officer from 1990-94. She also served on various committees at Branch 24, including the convention committee and the scholarship committee. She had served as a Branch 24 trustee since 1983. Jackie was affectionately known as the "first lady" of Branch 24.
In the 1990s, Jackie was instrumental in getting her branch and other California branches involved in the Letter Carrier Political Fund. In 1994, she was elected as the director of education and organization for the California State Association of Letter Carriers, and she was still serving in that position. At the national level, she served as the chairwoman of the scholarship committee for many years.
For more than 25 years, Jackie also taught labor studies courses at Los Angeles Trade Technical College, where she taught several NALC members over the years. She was 76.
"For more than 40 years, Sister White worked to serve her brothers and sisters at various levels," NALC President Fredric Rolando said. "We recognize all of her impactful work, and we mourn her loss. She will be missed."