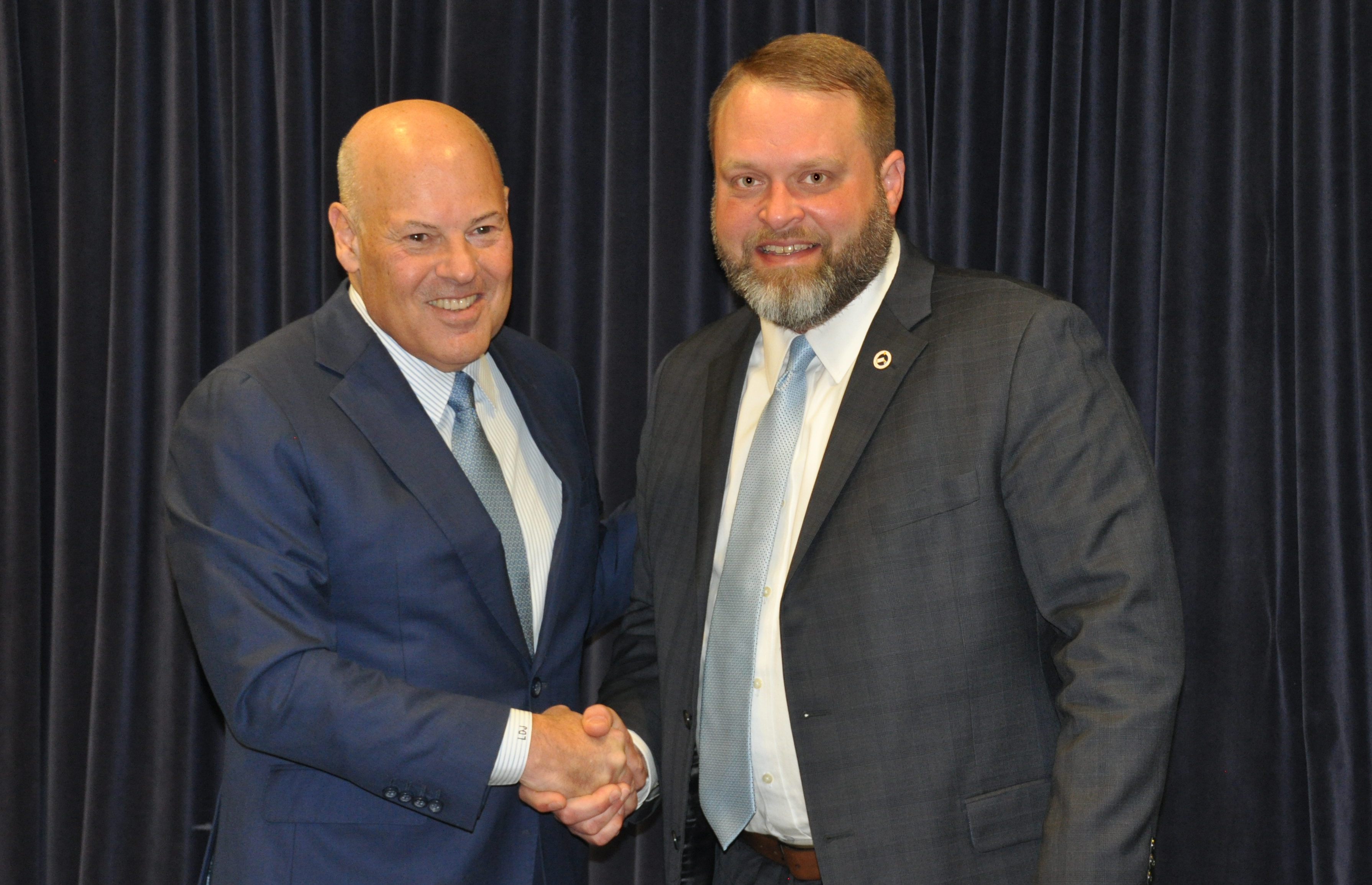 Today, NALC and the Postal Service formally opened negotiations for a new collective bargaining agreement.
Click here to watch NALC President Brian L. Renfroe's opening statement or read it below.
Good morning, everyone. Thank you Postmaster General DeJoy and Deputy Postmaster General Tulino for hosting this opening ceremony for NALC's sixteenth round of collective bargaining with the Postal Service. I am honored to be here today representing the nation's city letter carriers for the first time as NALC President. We are eager to work in good faith to reach a new contract. As we look forward to the negotiations ahead, I see opportunities for both sides of this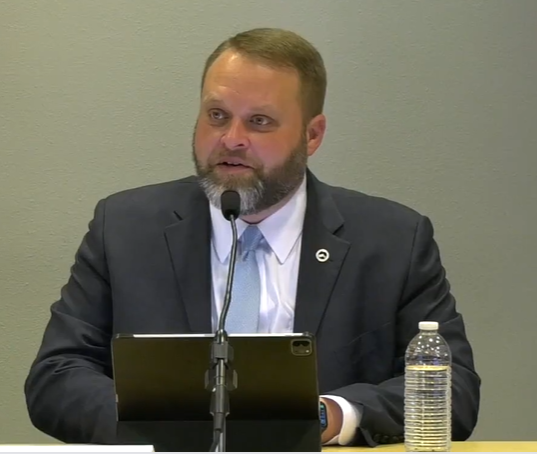 table.
We meet at a crucial time for the city letter carrier craft. Almost three years ago, the world as we knew it started shutting down due to the rapidly spreading COVID-19 virus. While millions of Americans worked from home and sheltered in place across the country, our work became a lifeline for millions of homes and businesses.
Letter carriers seamlessly kept the economy and our communities running by delivering essential goods and medications, school supplies, stimulus checks, at-home COVID tests, and everything else that the American people needed. For months, we enabled our customers to safely shelter at home, a luxury that essential workers like letter carriers did not have. We proudly rose to the occasion, just like we always have.
We also helped to uphold American democracy in two national elections by working directly and successfully with the Postal Service to ensure that American voters could safely and confidently cast their ballots at home during a time of intense polarization and heightened Congressional scrutiny. During the pandemic, vote-by-mail skyrocketed, and letter carriers and the NALC were proud to play a crucial role in getting tens of millions of ballots delivered securely and on time.
Through all of this, our union and letter carriers across the country led a 12-year effort to finally enact bipartisan postal reform that protected this invaluable network by repealing the pre-funding mandate, which had burdened the Postal Service for over a decade. By achieving this goal, working in concert with you and the other postal unions, we not only put the Postal Service on more solid financial footing, we also demonstrated that productive collaboration is essential to the continued success of our union and the Postal Service.

As everyone knows, our country's economic landscape is drastically different than it was in 2019 when we last sat at a negotiating table. Unemployment rates are at a 50-year low, and we face the increasingly difficult challenge of attracting sufficient applicants for letter carrier jobs at today's starting wages. This has significantly affected our ability to properly staff post offices and ultimately deliver the nation's mail.
Today, letter carriers are working harder and longer hours than at any other point in our history. The staffing shortages, coupled with the influx of parcel volumes, changing technology and heightened customer expectations, have made our jobs more challenging and demanding.
But that's not all. Too often, we still struggle with the lack of management's contract compliance at the local level. This leads to complications on the workroom floor, which affect morale and productivity, while needlessly costing the Postal Service money.
And perhaps most importantly, crime against letter carriers is on the rise. These repeated attacks against our members are horrific, unacceptable and must be addressed through action. No letter carrier should fear for their life or safety while on the job. Candidly, crime is a deterrent in an already difficult environment to attract letter carriers to join the Postal Service.
In this round of collective bargaining, letter carriers have the chance to be recognized, and rewarded, for being the backbone of this beloved American institution, the United States Postal Service. Letter carriers are the face of the Postal Service. We are the ones customers see delivering to their homes and businesses. They know us and rely on us for dependable, consistent service. We are indispensable and directly carry out the Postal Service's mission.
Through a fair agreement, the Postal Service has the opportunity to strengthen the letter carrier workforce, and in turn, bolster the Postal Service's ability to achieve the goals in its 10-year plan. One of the goals of the 10-year plan is to invest in and empower employees to create a stable workforce. Other key portions of the plan, like the implementation of Sorting and Delivery Centers, will only be successful if we use these negotiations to build a stronger city letter carrier craft.
As we seek a new agreement, we will aim to preserve and improve the standard of living for the nation's city letter carriers, as we always have. It is our expectation that we will be able to reach voluntary agreement; however, we will not hesitate to pursue a fair agreement through binding interest arbitration if necessary.
Our goals are simple.
First and foremost, we must address the staffing issue that is debilitating our craft. Nationwide, letter carriers are overworked, and post offices are understaffed. One obvious solution that we seek is increased wages. If the Postal Service wants to recruit and retain letter carriers, it starts with a competitive wage —plain and simple.
The staffing crisis can also be addressed by shifting to an all-career workforce and abolishing the City Carrier Assistant position. The CCA position, in its current form, no longer serves the Postal Service or our craft.
Overwhelming turnover is seriously undermining service. While we have made positive strides in our recent agreements to convert certain installations across the country to the all-career model, NALC seeks to convert all CCAs to career positions and make the all-career model the standard nationwide.
Lastly, we will insist on practical solutions to address the increasing crime against letter carriers. The safety of letter carriers is our number one priority. We must work together to ensure that letter carriers are safe from the moment they arrive at their stations until the moment they park their vehicles after delivery. We cannot allow these crimes to persist.
If we work together, I wholeheartedly believe that we can achieve these goals and that doing so will ultimately benefit both parties. Together, we have implemented several successful initiatives since our last agreement, including numerous COVID-related Memorandums of Understanding, the development of the New Employee Experience and Retention Program, the conversion to the all-career model in hundreds of installations across the country, and the Technology Integrated Alternate Route Evaluation and Adjustment Process, just to name a few.
We commend your willingness to work with us on these key initiatives. We have long been involved in the bargaining process with Deputy Postmaster General Tulino. I appreciate your commitment and look forward to what we will continue to accomplish together.
Similarly, after years and years of declining service quality, it is refreshing to have leadership that is willing to sit down and maintain regular, substantive engagement to address this problem while promoting the work letter carriers do proudly six-and-sometimes-seven-days-a-week. Your leadership, Postmaster General DeJoy, has fostered that engagement that we look forward to continuing in the future.
I will close by saying, during these negotiations, I believe both parties have a unique opportunity to build something transformative for the nation's letter carrier workforce and the entire agency. If we can increase wages, appropriately staff our craft, address safety concerns, and enforce managerial contract compliance, letter carriers, in turn, can ensure that the Postal Service remains strong and competitive.
City letter carriers deserve a contract that will enable them to have a dignified, safe, and dependable job that provides a comfortable middle-class working life and retirement. It is my privilege to lead the nation's city letter carriers in our pursuit of these goals.
Again, NALC is committed to doing all we can to swiftly reach agreement on a mutually beneficial contract. I look forward to working with all of you in the weeks and months ahead. Thank you.