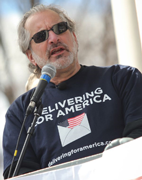 Letter carriers across America rallied on Sunday, March 24 in support of maintaining Saturday mail delivery service.
"Our fight is about the cost of losing Saturday mail delivery and how it would affect people in each and every state," said NALC President Fredric Rolando (r), who led one such rally in Boston.
Across America, thousands of letter carriers joined friends, family, co-workers and community coalition partners at specified post offices in major media centers, holding signs and wearing T-shirts reflecting the feelings of the citizenry.
Photos
Click below to browse NALC's official Flickr photostream to see pictures taken at many events all over the country.
News media coverage
Below is just a sampling of links to news media coverage of the March 24 day of action.
NATIONAL
Alabama
Alaska
Arkansas
California
Colorado
Connecticut
Delaware
District of Columbia
Florida
Georgia
Guam
Idaho
Illinois
Indiana
Iowa
Kentucky
Lousiana
Maine
Maryland
Michigan
Minnesota
Mississippi
Missouri
Nebraska
Nevada
New Jersey
New Mexico
New York
North Carolina
North Dakota
Ohio
Oklahoma
Oregon
Pennsylvania
South Carolina
South Dakota
Tennessee
Texas
Utah
Virginia
Washington
West Virginia
Wisconsin
—Special thanks to Ann Sutherland and Peter Morscheck for their help in finding news item links