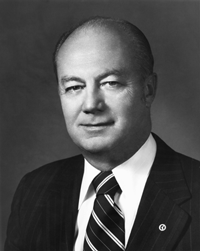 James H. Rademacher, national president of the NALC from 1968 to 1977, died on Dec. 15 of natural causes in Roanoke, VA. He was 94 years old.
"Jim spent his working life in the service of letter carriers, even through his retirement years," NALC President Fredric Rolando said. "We will long remember his efforts and we offer our condolences to his family and friends."
Rademacher, a member of Detroit Branch 1, was president during the Great Postal Strike of 1970 and through the transformation of the cabinet-level Post Office Department into the modern United States Postal Service following the passage of the Postal Reorganization Act of 1970. He oversaw the first collective-bargaining agreement with USPS and the successful defeat in 1976 of the so-called "Kokomo Plan" of work and time standards that postal management had attempted to unilaterally impose.
The son of a letter carrier, Rademacher joined the Post Office in 1941, when he became a temporary substitute carrier in Detroit. He became a station representative in 1946 after two years in the U.S. Navy. He was elected secretary of Branch 1 in 1948 and president in 1950, where he served until he became national assistant secretary-treasurer in 1960. In 1962 he was elected vice president and became editor of The Postal Record; he served as vice president until he was elected president by acclamation at the 1968 convention in Boston.
Rademacher is survived by his wife, Ellen; his daughter, Linda; his son, Charles; and 3 grandchildren, five great-grandchildren and two great-great-grandchildren. (His first wife of 64 years, Martha, died in 2005.)
A private funeral service has already been held. Those who wish to honor Rademacher may contribute in his memory to their choice of charity or charities.
News of his death was announced as the January 2016 edition of The Postal Record was going to press, so more information about Rademacher and his legacy will be published in the February issue.
Below, "Seven Decades of Activism: A Conversation with NALC President Emeritus James H. Rademacher," a video created for and shown at the 2014 NALC Convention in Philadelphia.