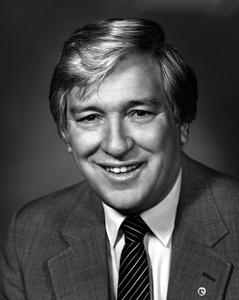 Vincent R. Sombrotto, 89, a towering figure in the history of the National Association of Letter Carriers and one of the most significant U.S. labor leaders of recent decades, died Jan. 10.
As a rank-and-file letter carrier at Grand Central Station in New York City, Sombrotto assumed leadership of the pivotal 1970 wildcat postal strike that led directly to the creation of the modern United States Postal Service.
The following year, he was elected president of NALC Branch 36 in New York City. Seven years later, he was elected as NALC's 16th national president, a position he would hold from 1978 to 2002.
His seven-term tenure atop the union was marked by extraordinary changes in the letter carrier craft and by remarkable progress for letter carriers. He also served as a vice president of the AFL-CIO.
"Vince's long tenure and tireless work for this union, at both the local and national levels, has left a lasting, positive impact on all the men and women who have carried the mail since the Great Postal Strike, and on those who will do so in the decades yet to come," NALC President Fredric V. Rolando said.
"The deep sadness we all feel at his passing mixes with the fond and happy memories of him that those of us he touched will carry with us for the rest of our lives," Rolando said.
Sombrotto was born in New York City on June 15, 1923. He joined what was then the Post Office Department in 1947 as a part-time letter carrier after serving with distinction in the U.S. Navy in World War II.
In 1970, New York City letter carriers walked off their federal jobs—risking arrest in what was effectively a strike against the U.S. government—to protest dismal working conditions and poverty-level wages that entitled some to federal assistance programs. Within hours, carriers and other postal employees in one city after another across the country joined the strike. President Richard Nixon called in the troops to deliver the mail, but they proved unable to carry out the task in an effective manner. The walkout eventually resulted in the Postal Reorganization Act of 1970 with full collective-bargaining rights for all postal employees.
Though he held no union office at the time, Sombrotto's personal charisma, street smarts and military background led to his taking charge and to other carriers following his lead.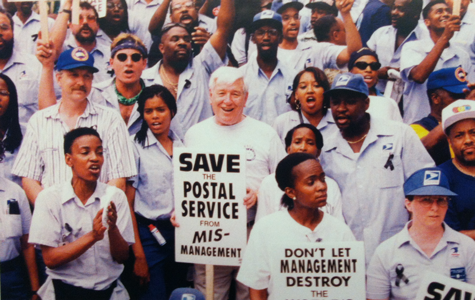 His seven-term tenure atop the national union was marked by extraordinary changes in the letter carrier craft and by remarkable progress for letter carriers. As national president and chief contract negotiator, Sombrotto led the NALC in seven highly productive rounds of collective bargaining that provided basic wage increases in every contract, preserved uncapped cost-of­living adjustments and improved letter carrier working conditions. His efforts made the carrier's job a more rewarding and satisfying one, and they made the NALC a stronger, more united union, well-equipped to meet the challenges it faced.
Sombrotto's many achievements as NALC president included turning the union's political action fund, the Committee on Letter Carrier Political Education (COLCPE), into one of the largest and most effective political action committees in the labor movement while dramatically improving the union's political and legislative operations. Under his leadership in 1993, the NALC played a critical role in winning reform of the Hatch Act, breaking the political shackles that made letter carriers and other federal employees second-class citizens for more than 50 years.
A firm believer in civic responsibility, Sombrotto tirelessly promoted the letter carrier tradition of assisting those in need. His active support of the Muscular Dystrophy Association helped raise tens of millions of dollars to fight the ravages of neuromuscular diseases. In 1992, he began the NALC Food Drive, which has developed into the country's largest one-day food drive. Held the second Saturday every May, it has to date provided more than 1.2 billion pounds of food for food banks in communities throughout the nation, with letter carriers collecting non-perishable food postal patrons leave near their mailboxes.
Knowing that carriers are both familiar with and dedicated to the communities they serve, Sombrotto and the NALC joined forces with the U.S. Postal Service, local United Ways and emergency services organizations to establish Carrier Alert, a nationwide program where carriers can watch over elderly or housebound postal customers. A great many of these letter carriers perform heroic and humanitarian deeds on their routes, saving lives, putting out fires, finding missing children and stopping crimes, something that Sombrotto and every NALC president since have recognized annually with the NALC Heroes of the Year awards.
Sombrotto retired from national office in 2002. Since then, he had remained engaged in the service of his beloved union, taking part in many national conventions as well as in a special video commemorating the 40th anniversary of the Great Postal Strike. His last appearance at a national NALC gathering was at the National Rap Session in Las Vegas in October of 2011.
Sombrotto is survived by his wife Rae, by seven grown children and by 14 grandchildren.
Visitation is on Saturday, Jan. 12, from 7 to 9 P.M., and on Sunday, Jan. 13, from 2 to 4 P.M. and again from 7 to 9 P.M. at Fairchild Funeral Chapel, 1570 Northern Blvd., Manhasset, NY.
The funeral Mass will take place on Monday, Jan. 14 at 9:30 A.M. at St. Peter of Alcantara Roman Catholic Church, 1327 Port Washington Blvd., Port Washington, NY.
Condolences can be sent to Mrs. Sombrotto and family at: 24 Soundview Drive, Port Washington, NY 11050.
Donations in lieu of flowers can be made to the National Kidney Foundation.