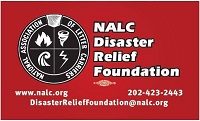 To our brothers and sisters in the areas that will be impacted by Hurricane Dorian, we need your help to make sure that we are notified of the needs of our membership in this area. We seek your help in identifying those letter carriers who may be displaced from their homes once Hurricane Dorian hits, by providing the following information:
Name
Address
Phone Number
Branch Number
Work Location
Please provide this information to the National Business Agent Lynne Pendleton's office at 678-942-5295, for Region 9 (Florida & Georgia). You may also email one of the following, NBA, RAAs, the Disaster Foundation, the Foundation's President or Vice President at:
pendleton@nalc.org - 954-224-0410
lyerly@nalc.org - 954-604-0079
lester@nalc.org - 470-629-7906
ali@nalc.org - 470-488-8953
cdavidson@nalc.org
peralta@nalc.org
DisasterReliefFoundation@nalc.org – 202-423-2443
Helping to account for each other's needs is the beginning point for assistance.