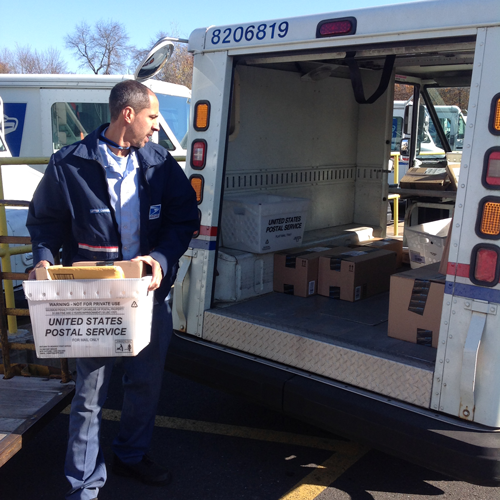 Letter carriers, like Princeton, NJ Branch 268 member Josef Thompson (r), have begun delivering Parcel Select packages in more than 900 ZIP codes nationwide as part of a test involving Sunday delivery of packages from a major online retailer.
"We're excited about the potential of the rapidly growing e-commerce market and what it means for the Postal Service," NALC President Fredric Rolando said. "It's important to take advantage of the universal postal network, which already delivers to 151 million homes and businesses throughout the nation six days a week—and which could do so on Sundays as well. That would benefit the economy, consumers, businesses and the nation as a whole.
"The Postal Service already offers Americans the world's most efficient and affordable delivery service, and this would be another way for the public to benefit from the unique postal network. Letter carriers look forward to making these new services available to all American businesses, large and small.
"There is unlimited potential for growth in Sunday and same-day package delivery, which increases revenue for the Postal Service while providing more services to the American people.
"NALC has been involved in and fully supports this effort, and we will continue to work with the Postal Service to grow this business in the future."