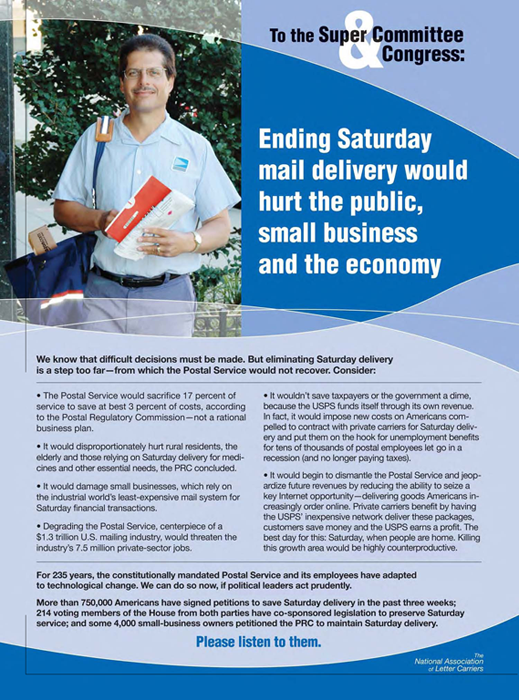 The NALC placed a targeted full-page advertisement in three Capitol Hill newspapers on Nov. 17, to tell members of Congress and the Joint Select Committee on Deficit Reduction—the "super committee"—that ending Saturday mail delivery is a bad idea that hurts the public, small businesses and the U.S. Postal Service.
"Just three weeks ago, we launched a national petition drive to let our elected representatives know that eliminating a day of mail delivery service is penny-wise and pound-foolish," NALC President Fredric V. Rolando said. "More than a 750,000 Americans have signed the petitions to save Saturday delivery, adding their voice to the more than 4,000 small-business owners who have petitioned the Postal Regulatory Commission to keep six-day mail service."
The ad urges members of Congress to consider that, under current proposals to eliminate Saturday delivery, the Postal Service would sacrifice 17 percent of service to save at best 3 percent of costs, according to the Postal Regulatory Commission—not a rational business plan. Also, the ad notes that the PRC concluded that cutting Saturdays would disproportionately hurt rural residents, the elderly and those relying on Saturday delivery for medicines and other essential needs.
The ad, which features a photo of a letter carrier delivering mail, notes that 214 representatives in the House from both parties are co-sponsors of a resolution in support of Saturday delivery. Nevertheless, a number of service-killing measures are currently making their way through both the House of Representative and the Senate.
"We placed the ad in Roll Call, Politico and The Hill because we know they are read by members of the House and Senate, as well as their staffers," Rolando said.
"We know that difficult decisions must be made," the ad's text reads. "But eliminating Saturday delivery is a step too far-from which the Postal Service would not recover, and it would hurt the public, small business, and the economy."
Also, eliminating a day—or more—of mail delivery:
Would damage small businesses, which rely on the industrial world's least-expensive mail system for Saturday financial transactions.
Would degrade the Postal Service, centerpiece of a $1.3 trillion U.S. mailing industry, would threaten the industry's 7.5 million private-sector jobs.
Would not save taxpayers or the government a dime, because the USPS funds itself through its own revenue. In fact, it would impose new costs on Americans compelled to contract with private carriers for Saturday delivery and put them on the hook for unemployment benefits for tens of thousands of postal employees let go in a recession (and no longer paying taxes).
Would begin to dismantle the Postal Service and jeopardize future revenues by reducing the ability to seize a key Internet opportunity-delivering goods Americans increasingly order online. Private carriers benefit by having the USPS' inexpensive network deliver these packages, customers save money and the USPS earns a profit. The best day for this: Saturday, when people are home. Killing this growth area would be highly counterproductive.
"For 235 years, the constitutionally mandated Postal Service and its employees have adapted to technological change," the ad reads. "We can do so now, if political leaders act prudently."