It is with deep sorrow that the NALC shares the loss of an additional six active letter carriers and one retiree who have succumbed to coronavirus.
Jeff Jameson of Branch 458, Oklahoma City, OK, passed away on December 11, 2020. Brother Jameson began his career in 2004. Jeff is survived by his wife Christy and his children JJ, Corey, and Ashley. He was 51.
Ubaldo "Al" Herrera of Branch 825, Oak Brook, IL, passed away on December 17, 2020, at age 46. In addition to his 22 years of dedicated service to the people of the United States as a letter carrier, Brother Herrera was a proud veteran of the United States Marines. He leaves behind his wife Miriam and children Ingrid and Ubaldo Jr.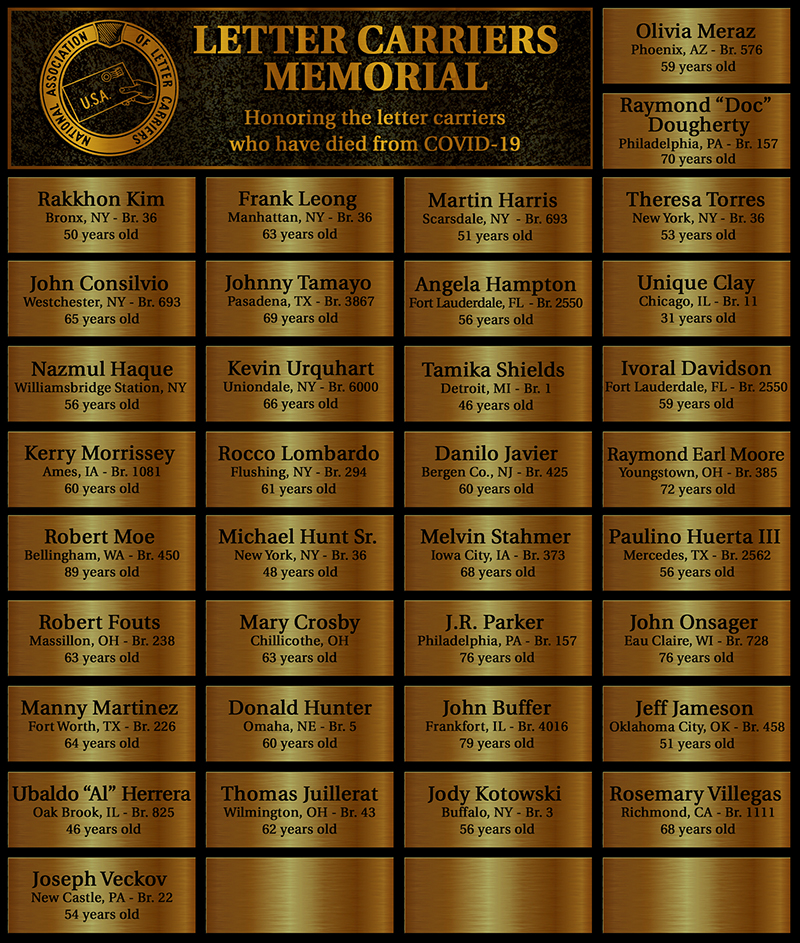 Thomas Juillerat passed away on December 18, 2020, leaving behind his wife Claudette and three daughters Brittney, Kelsey, and Kirsten. In September, Brother Juillerat celebrated his 15th anniversary as a letter carrier. He worked at the Wilmington, OH Post Office and was a member of Branch 43, Cincinnati. Brother Juillerat was 62.
Jody Kotowski passed away on December 20, 2020, at the age of 56. Sister Kotowski began her USPS career 23 years prior to her passing, and she worked at the Niagara Square Post Office where she was a member of Branch 3, Buffalo, NY. She served her fellow letter carriers as shop steward and editor. She leaves behind her husband Frank and daughter Francesca.
Rosemary Villegas, a member of Branch 1111, Richmond, CA, departed on December 21, 2020. Sister Villegas carried mail for over 35 years and worked at the Piedmont Station. She was 68.
Joseph Veckov was a retired member of Branch 22, New Castle, PA, and resided in Duncansville, PA. He passed away on December 27, 2020, at age 54. Brother Veckov carried mail for 30 years at the Altoona Post Office and had served his branch as a shop steward. He is survived by his wife Brenda and sons Adam and Zachary.
"On behalf of the NALC, we mourn the loss of our fellow brothers and sisters" President Rolando stated. "We send our condolences and deepest sympathies to these letter carrier's families, friends, and co-workers."