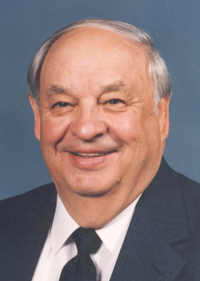 Retired NALC Health Benefit Plan Director Robert Buntz Sr. died on Sunday, Dec. 7, in Hiawatha, IA, following a brief illness. He was 93.
Buntz, a member of Des Moines Branch 352, worked at the Iowa Packing Company for several years before beginning a career as a letter carrier in 1948. He went on to serve as Branch 352 vice president for one year and then president for 16 years. Buntz also held several positions in the Iowa State Association of Letter Carriers.
In 1978, Buntz was elected director of the NALC Health Benefit Plan, a position he held until his retirement in 1986.
Buntz was born on Jan. 27, 1921, in Des Moines. A graduate of Des Moines' East High School, he joined the Army in 1942, serving during World War II until his honorable discharge in 1945.
In addition to his work as a letter carrier and NALC officer, Buntz built four homes and was an accomplished carpenter.
Buntz is survived by his wife of 73 years, Marjorie; his brother, Andrew; his son, Robert Jr.; and numerous nieces, nephews, grandchildren and great-grandchildren.
Visitation will be held at the Grandview Funeral Home in Des Moines, 3211 Hubbell Ave., on Friday, Dec. 12, from 5 to 7 p.m. Mass of Christian Burial will be held at St. Joseph's Catholic Church, 3300 Easton Blvd., Des Moines, on Saturday, Dec. 13, at 10 a.m., followed by burial at the Glendale Cemetery.
Memorials can be directed to St. Joseph's Catholic Church, and online condolences can be left here.