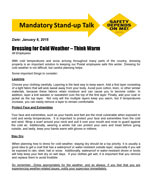 The Postal Service has issued mandatory safety talks to be given to all employees regarding protection from cold temperatures.
Don't put yourself in danger: take precautions and know the signs of hypothermia and frostbite.
Check out the "Extreme Temperatures" section of the Safety & Health web page for more information.