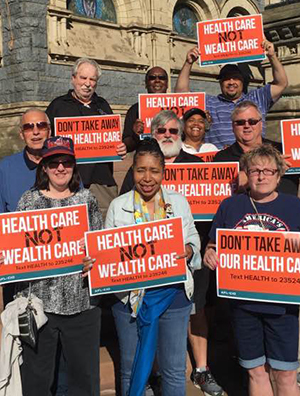 Letter carrier activists from Ohio took part in a protest against the Senate's health care bill in Cleveland.
Thanks to the overwhelming opposition voiced by letter carriers, working people and the general public, the Senate has delayed action on the Better Care Reconciliation Act of 2017 until after Congress' Fourth of July recess.
The move follows the emergence of enough Senate opposition to prevent the Senate from proceeding on debate. The delay comes one day after the release of the Congressional Budget Office's (CBO) report on the measure, a report that said the bill would increase the number of people without health insurance by 22 million by 2026 (1 million fewer than the House's health care bill).
Public outcry against the bill spurred doubt and reflection among a handful of key senators. Democrats and moderate Republicans alike argued that the bill in its current form would be too harmful to working Americans, while far-right conservatives suggested the bill did not go far enough toward repealing Obamacare.
But our fight is not over yet. All letter carriers should call their senators while they are back home over Congress' Fourth of July recess and urge them to oppose this attack on middle-class workers and their families.
Call 888-865-8089 and tell your senators that you will remember who took away health care from millions of working people. (If no one answers, leave a message.)