The Vincent R. Sombrotto Post Office in New York City was officially dedicated on Oct. 16, in a ceremony held at the Grand Central Station facility. Rep. Carolyn Maloney (D-NY), who sponsored the bill, led a group of speakers about Sombrotto's importance, not just for the Postal Service but for all working people.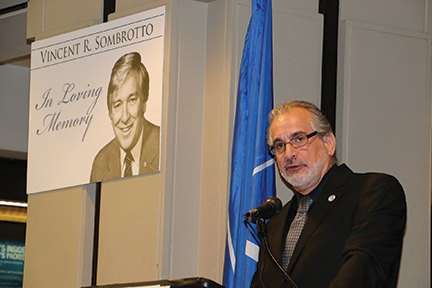 "Having a post office named after you carries great meaning," NALC President Fredric Rolando told the gathered crowd of Sombrotto's family, NALC and USPS officials, and dozens of retired letter carriers. "It celebrates true patriots and lets every American know that you have contributed to the common good of our country. Vince is not the most famous person to have a post office named for him, but for letter carriers and other public employees, he is by far the most important figure in the history of the Post Office.
"Vince made the American dream possible for hundreds of thousands of American families," Rolando said. "Just as important, Vince knew the real meaning of the American dream—to work hard and earn a decent wage, provide health insurance and a home to your family, save a bit for retirement and hopefully send your children to college so that their lives will be better than yours. Vince knew that and he made it happen for letter carriers everywhere, here in New York and across the entire United States of America."
Vince's daughter Dr. Lisa Sombrotto spoke for family members, explaining that they knew the important work her father was doing as the president of the union, but that he always found time to be their dad.
New York Branch 36 President Charlie Heege, New York State Association President George Mangold, New York Postmaster Elvin Mercado, USPS Vice President of Area Operations for the Northeast Area Richard Uluski and New York State Assemblymember Dan Quart also spoke at the event.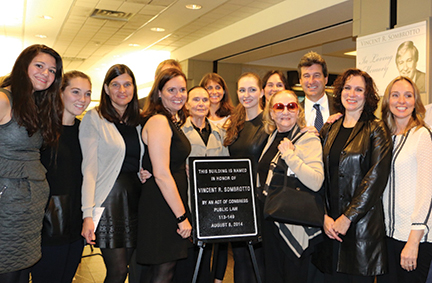 Many NALC retirees attended the event, remembering Sombrotto as the rank-and-file union member who led them on the wildcat walkout that became the Great Postal Strike of 1970. Ruby Almeida remembered him fondly. "I believed in Vincent," she said. "It was scary to walk out. But I followed him knowing that he would stand his ground and would always have our backs."
Once he became president of the national union, serving from 1978 to 2002, Sombrotto engineered pay raises in each national agreement, something rare in the U.S. labor movement during the Reagan and subsequent White House administrations. Almeida made note of how Sombrotto improved the pay, benefits and working conditions for all letter carriers, something she sees in her monthly pension check.
"Every time that check comes in the mail, I praise the name of Vincent Sombrotto and ask God to bless his family and children," she said. Many of the attendees also made note of how all working people benefited from the work Sombrotto did with the NALC and as a vice president of the AFL-CIO.
Vince's son Stephen, president of Local 621 of the United Workers of America, said that his father wasn't one for big displays but he would have appreciated the dedication. "My father would have never dreamed there would be such a day," he said after the ceremony. "He would truly be honored, but more so for his family, because he left behind a legacy."
You can view images from the event here.