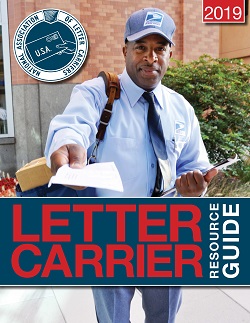 The 2019 Letter Carrier Resource Guide, a comprehensive guide for every letter carrier, combines, updates, and replaces the 2016 City Carrier Assistant Resource Guide and the 2014 Letter Carrier's Guide. This new all-in-one guide was created for all letter carriers to obtain important information pertaining to every stage of their career. The guide includes updated rights and benefits, and relevant changes to these rights and benefits, as letter carriers progress from city carrier assistant to career status. The guide includes chapters on NALC structure, health benefits, pay, uniforms, workroom floor issues, community service, legislation, and much more.
To order a printed version of the Letter Carrier Resource Guide, log on to the Members Only section of the NALC website, click the checkbox below the image of the guide and a copy will be mailed to your NALC address of record.
Click here for the downloadable PDF version of the Letter Carrier Resource Guide.