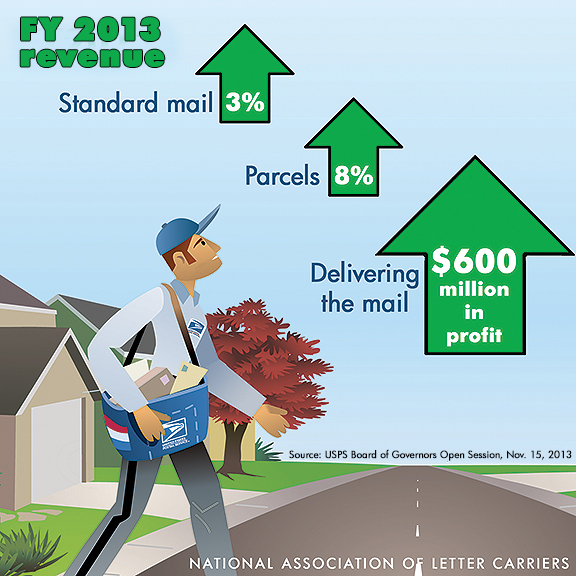 Statement by Fredric Rolando, president of the National Association of Letter Carriers:
The USPS today reported an operating profit of $600 million for fiscal 2013, but a net loss of $5 billion due to the 2006 congressional mandate to massively pre-fund future retiree health benefits. This mandate—a political requirement placed on no other agency or company in the country—cost $5.6 billion.
That means the Postal Service, which doesn't get a dime of taxpayer money, earned a profit of $600 million delivering the mail. In 2012, the agency reported an operating loss of $4.8 billion and a total loss of $15.9 billion due to a pre-funding expense of $11.1 billion.
The dramatic improvement in postal finances announced today by the U.S. Postal Service is great news for 300 million Americans and millions of business relying on USPS for the world's most affordable delivery service.
As the economy recovers from the Great Recession, the trends underlying this performance bode well for the future. Mail revenue largely stabilized over the past year, down just 2 percent, while revenue from package deliveries skyrocketed by 8 percent as online shopping increased. This shows that the Internet is not a threat to the Postal Service, but an opportunity.
Exciting developments, such as the recently announced USPS-Amazon Sunday package delivery program, reinforce these positive trends.
Now it's time for Congress to set aside bills that focus on cutting service and attacking the pay and benefits of postal workers instead of addressing the real cause of the crisis: the 2006 pre-funding mandate.
The Postal Service is positioned for a strong comeback if lawmakers act sensibly—by addressing the pre-funding fiasco that created an artificial financial crisis, and by freeing the Postal Service to use its universal retail and delivery networks to innovate and grow.
Read the Delivering for America fact sheet on the FY 2013 financial report.