Economics
The Bureau of Labor Statistics released its employment projections for 2016-2026 today. Employment is expected to increase by 11.5 million over the 2016-2026 decade. This represents a growth of 0.7 percent annually, an increase of 0.2 percent over the previous annual growth rate of 0.5 percent from 2006-2016. This does not represent a giant leap in the level of employment, especially when looked at over the course of the last 20 years.
The change in the civilian labor force is projected to be 6.6 percent over 10 years, far lower than the 13.1 percent change between 1996 and 2006.
Most of this new growth in jobs will come from the health care industries and their associated occupations. Home health aides are projected to increase by 46.7 percent, adding 425,600 jobs, and personal care aides should grow by 37.4 percent, adding 754,000 jobs.
Workers in health care and social assistance likely will make up one third of all new jobs by 2026, and the share of health care and social assistance employment is expected to increase to 13.8 percent in 2026, the largest major sector in the economy. The below graph shows the projected change in occupations from 2016-2016 according to the BLS.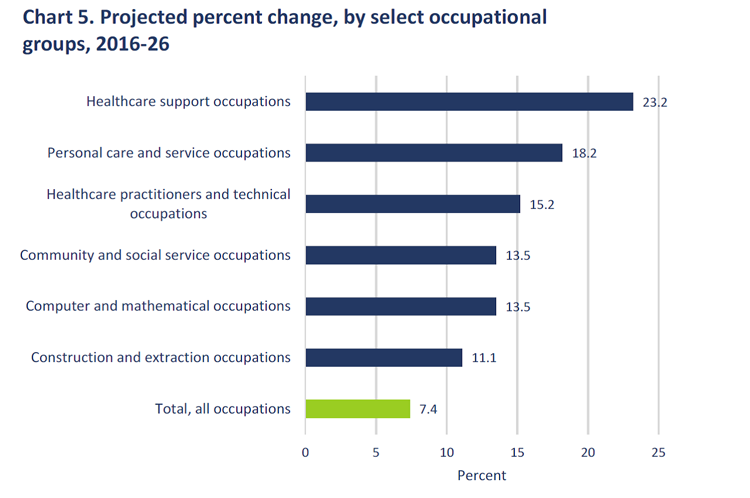 While the BLS believes that this is mainly due to increases in the demand for health services for an aging population, NALC Research believes another major factor is the relatively low wages of many of these health care positions. The median wage for a home health aide was $22,600 as of May 2016 and the median wage for a personal care assistant was $21,920. According to EPI, in 2010 44.8 percent of home health aides and 56.9 percent of personal care assistants made at or below the federal poverty line.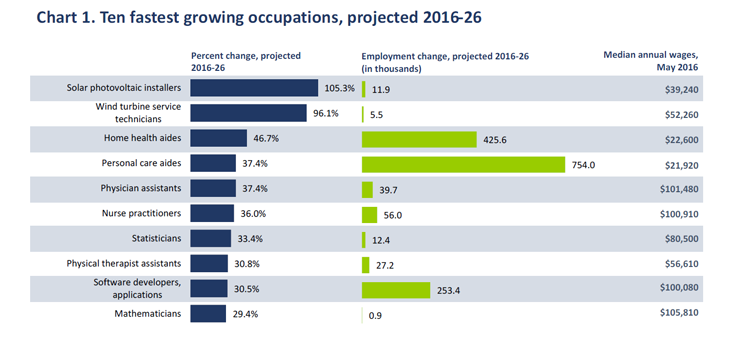 The BLS also reports that 19 of the 30 fastest growing occupations typically require some level of post-secondary education. With the cost of college at record levels, new workers are likely continue to be trapped in a vicious cycle of high debt and low wages. This is also happening at time of lower real GDP growth overall. The BLS projects that real GDP growth will be 2 percent annually from 2016 to 2026, well below the 3.3 percent annual growth rate between 1996 and 2006. If true, these factors will only exacerbate the rising inequality in American society over the next 10 years unless actions are taken to reverse the trend.
For more information, check out a further BLS analysis of the data in its Monthly Labor Review.