Economics
The U.S. Postal Service just announced that parcel volume is expected to increase by 10 percent compared with the same holiday period last year (Thanksgiving to New Year's Day). In addition, USPS expects 2017 holiday mail volume overall (cards, letters, parcels, magazines, marketing, etc) will top 15 billion pieces, including 850 million packages.
Letter carriers have played an integral role in delivering parcels in the U.S. since the early 1900s. Nearly a century before e-commerce became popular, letter carriers delivered packages for mail-order houses, helping to make products more accessible to people across the country.
According to the Smithsonian National Postal Museum's website, prior to the start of Parcel Post in 1913,
Six private delivery companies carried most of the nation's packages. Each company controlled a different area of the country, with little competition between them. None of these companies wanted government competition. They fought the proposed service, knowing they would lose money if people could send packages through the mail at lower cost. By 1911 the private express companies had lost their congressional allies and parcel post legislation finally reached the House and Senate floor. Parcel Post was instituted on January 1, 1913 and the floodgates were opened.
A booklet titled, "More than Two Centuries of Service," which can be found on USPS's site, notes,
Rural delivery, Parcel Post, and the Sears and Montgomery Ward catalogs were the original "shopportunity." The effect on the national economy was electric. Three hundred million packages were mailed in the first six months of Parcel Post service. The first year, Sears filled five times as many orders as it did the year before.
The following chart, sourced from the St. Louis Federal Reserve, shows catalog sales for Montgomery Ward and Sears, in millions of dollars, from 1919 to 1959. Peak sales for most years occurred in the fourth calendar quarter around the holidays.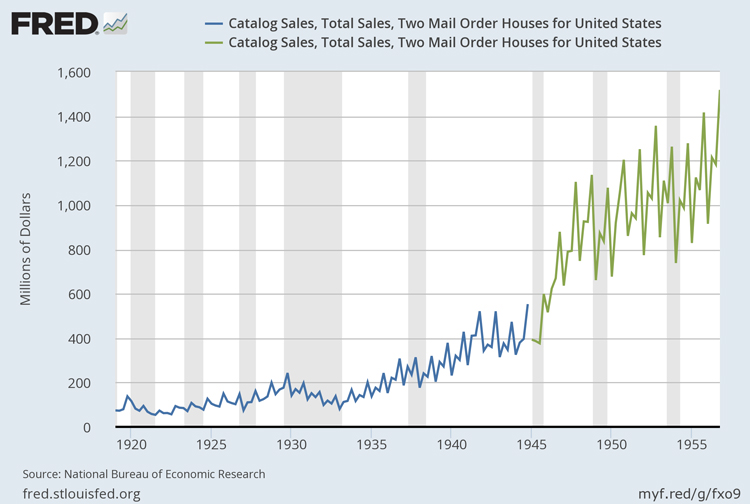 Flash-forwarding to more recent times, the following chart, sourced from the St. Louis Federal Reserve, shows retail e-commerce sales in the U.S. from 1999 to present. Peak sales continue to occur in the fourth calendar quarter around the holidays. (Note that this is the first quarter of USPS's fiscal year.) During last year's fourth calendar quarter, e-commerce sales were more than $120 billion. E-commerce sales have grown every year since the Great Recession. (Recessions are highlighted in grey below.)