Economics
The Bureau of Labor Statistics released its employment numbers for October 2017 today. Total non-farm payroll employment rose by 261,000 in October, and the official unemployment rate dropped slightly to 4.1 percent, a 0.1 percent decrease from September 2017 and a 0.7 decrease from January 2017.
While the news for this month is positive, there are indications that the unemployment rate has fallen largely because workers are leaving the labor force, not because new jobs are being created. The labor force participation rate decreased 0.4 percent to 62.7 percent, and BLS reports that it has seen little movement in the rate over the past year.
The prime age (25-54 years old) employment-population ratio, the proportion of the prime age population that is employed, declined 0.1 percent to 78.8 percent, still far lower than what is needed for a stronger economy. The graph below from the Economic Policy Institute shows that the prime age employment-population ratio is still below pre-recession levels.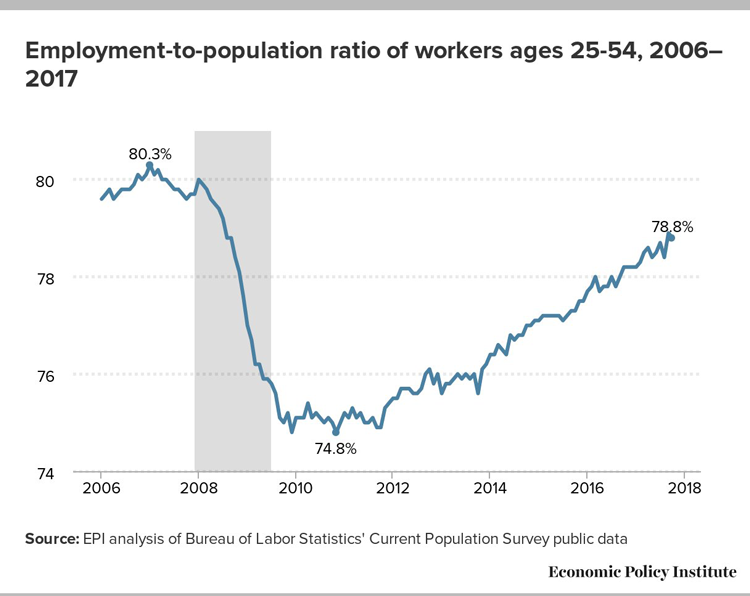 Wage growth also remained sluggish in October, as the average hourly earnings for all employees decreased one cent to $26.53, after rising 12 cents in September.
Over the past 12 months, average hourly earnings have increased only 63 cents, or 2.4 percent. This still lags behind target levels of wage growth and has not regained its pre-recession growth. The below graph from the Economic Policy Institute shows that year-over-year wage growth has stayed below 3 percent since the 2007-2009 recession.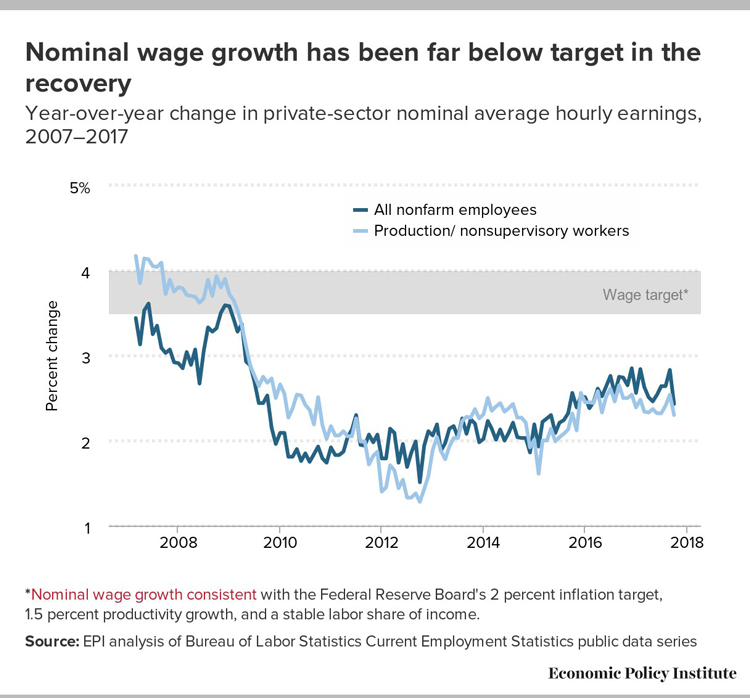 There are also great disparities among major worker groups in employment.
While the unemployment rate for adult women (20 years and over) decreased 0.1 percent to 3.8 percent, the rate for black workers spiked, increasing 0.5 percent to 7.5 percent in October 2017.
These disparities are also present among educational groups, as workers without a high school degree have an unemployment rate of 5.7 percent, 1.6 percentage points higher than the national rate—although it has decreased by 0.8 percent since September.
By contrast, workers with a bachelor's degree or higher have an unemployment rate of 2.0 percent, 2.1 percentage points lower than the national rate.
One idea to help alleviate these disparities and create an economy that works for all people, regardless of race or educational attainment, is a federal job guarantee.