Economics
The Bureau of Labor Statistics released its employment numbers for November today. Nonfarm payroll employment increased by 228,000, while the unemployment rate stayed constant at 4.1 percent, down half a percentage point from a year ago.
The broader measure of unemployment (U6), which includes marginally attached workers and workers employed part-time for economic reasons, increased 0.1 percentage points over October, from 7.9 percent to 8 percent. The number of unemployed persons remained relatively unchanged at 6.6 million, down 799,000 from a year ago. The main drivers of November employment were in professional and business services (+46,000), manufacturing (+31,000) and health care (+30,000).
The overall picture for November 2017 is a continuation of the positive news over the last year of rapidly decreasing unemployment greater than many projections by economists. While an unexpectedly high drop in the unemployment rate is welcome news, it is important to emphasize that there has not been a corresponding acceleration in wages.
Average hourly earnings for all employees have increased only 2.5 percent since November 2016. This is especially crucial as the Federal Reserve is expected to artificially cool the economy by raising interest rates at some point. Such a policy decision could inhibit already weak wage growth as wages clearly have room to rise without concerns over inflation, still at historic lows.
The below graph from the Economic Policy Institute shows how nominal wage growth is still far below the wage target and is not creating inflationary pressures.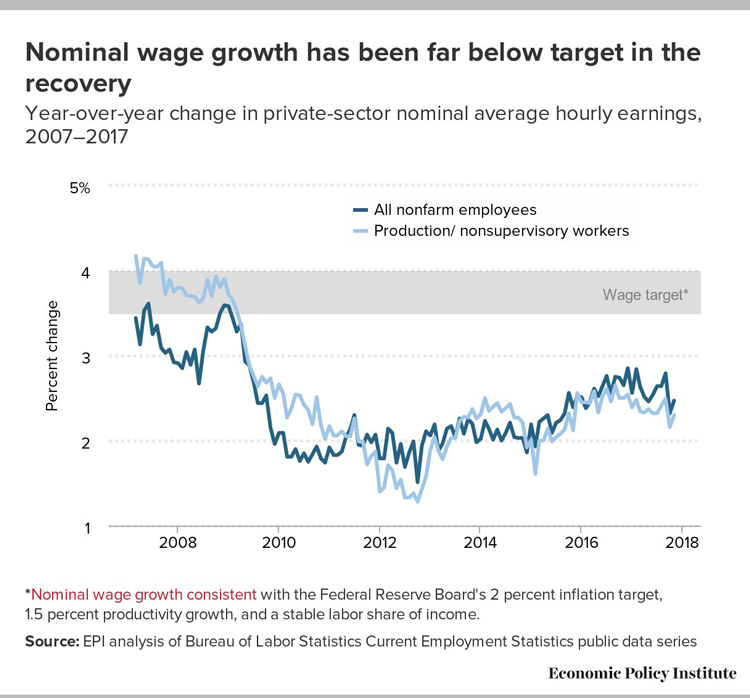 There is also slack in the employment-to-population ratio (EPOP) for prime-age workers (25-54) even as employment has increased over the last year.
In November, the EPOP was 78.8 percent for prime-age workers, a 0.1 percentage point drop over last month and 2.8 percentage points below the target rate of 81.6 percent (the high point over 12 months ending in 2000).
The November numbers also reveal that the prime-age EPOP has not returned to pre-recession levels. It is 1.5 percentage points below the January 2007 level of 80.3 percent and 3.1 percentage points below the April 2000 level of 81.9 percent, shortly before the bursting of the dot-com bubble.
The below graph from EPI shows the employment-to-population ratio for prime age workers since the 1995. The "Autopilot projection" represents EPI's estimate of the baseline level for EPOP. More information can be found here.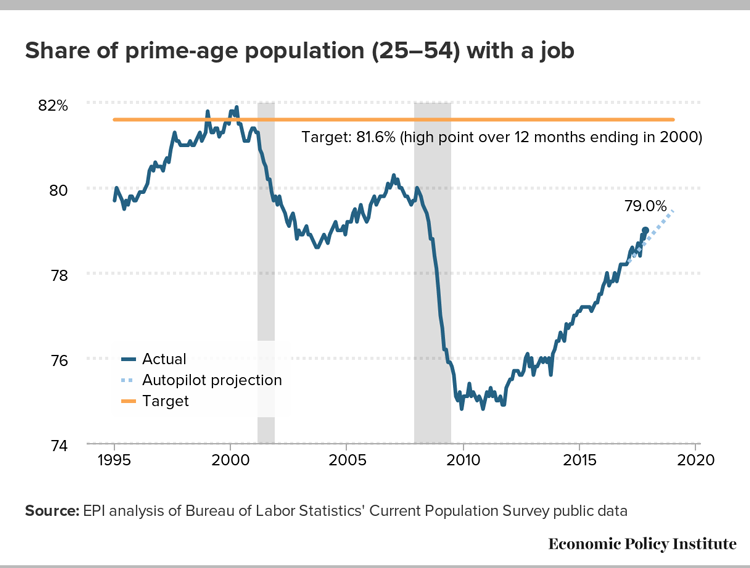 It is also worth noting that a relatively low percentage (11.3 percent) of the unemployment rate is due to workers voluntarily leaving their jobs. This could indicate that workers are not feeling secure about their overall employment prospects, especially given the precarious nature of work in the "gig economy." This number is down one percentage point from a year ago (12.3 percent) and down 3.7 percentage points from 2000.
The lack of robust social welfare programs in the United States can make it difficult for workers to voluntarily leave jobs, leading to inefficient outcomes such as workers languishing in jobs for which they are underpaid or overqualified, or that they simply don't enjoy.