October 2023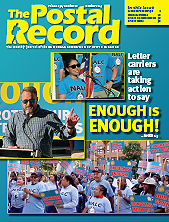 The Postal Record, Vol. 136, No. 10
Cover story
Letter carriers are taking action to say "Enough is enough!"
News and features
News from Washington: Taub and Day await Senate action on PRC nominations; NALC participates in rally to repeal WEP and GPO
Maui wildfires destroy carriers' homes
Get connected, stay connected
The spice of life
Last chance to join the NALC Veterans Group to receive recognition in November magazine
Time to contribute to CFC
Retirement savings made simple with NALC's Mutual Benefit Association
Letter carriers and the mail on social media
Monthly columns by the president and other national officers and letter carrier staff
To download a pdf of any of the articles click on the list at the bottom of this page.
Flippingbook
FlippingBook allows The Postal Record to look like a real magazine right in your browser, on any device. You can read the issue, cover-to-cover, here.
Download the entire magazine here.
*DISCLAIMER* Please disable your pop-up blocker in Internet Explorer! Google Chrome is the preferred browser for The Postal Record.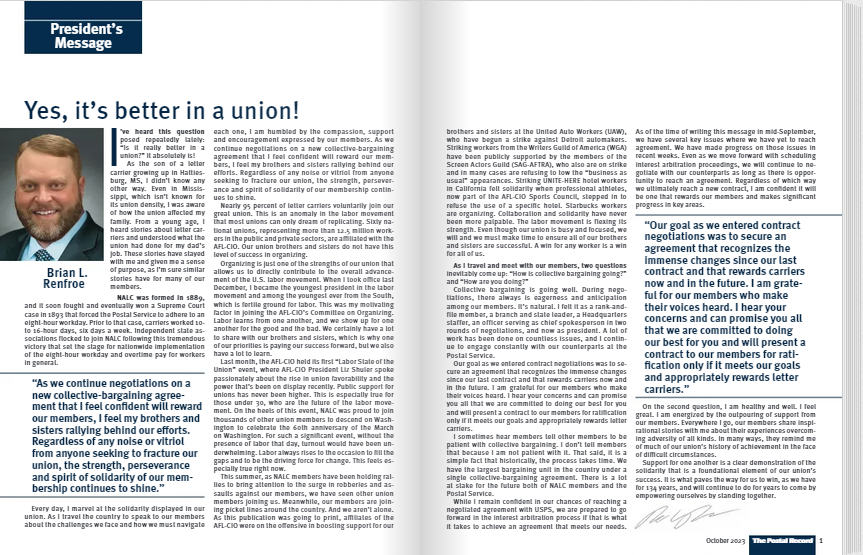 Audiobook
NALC now offers select articles and columns in an audiobook format for listening wherever is convenient. Follow along at PodBean, or wherever you listen to podcasts.