NALC Arbitration
NALC Arbitration Program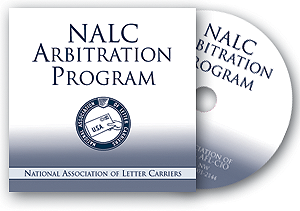 NALC has published a complete overhaul of the Arbitration Program. This new software enables contract researchers to search quickly through NALC's database of thousands of arbitration awards, which are now all contained on a single DVD.
During installation, the program will copy all the arbitration decisions to their computer's hard drive, using only 4GB of space (greatly reduced from 2010's 16GB). This enables full-text searching through all decisions released up to the time of publication. Be sure to click the updates button to download all of the arbitrations since the DVD was produced.
Branches may purchase the program DVD for $10 from NALC's Supply Department. Call (202) 662-2873 with Visa or Mastercard orders, or send a check or money order made out to "NALC" for the appropriate amount, along with your mailing information, to: NALC Supply Department; 100 Indiana Ave., NW; Washington, DC 20001-2144.
---
National arbitration awards of interest
C-32928, National Arbitrator Das, June 21, 2017
Arbitrator Das held that "the Unions' position that the policy set forth in ELM-519.321 applies to Presidential caucuses is upheld. The NALC's grievance that the Postal Service violated the ELM by denying administrative leave to letter carriers to attend the 2016 Nevada Democratic caucuses is granted."
C-31979, National Arbitrator Das, July 2, 2015
Arbitrator Das held that newly converted CCAs are "new employees" who, under the ELM, must complete 90 days of service before they may take or be credited with annual leave.
C-31980, National Arbitrator Nolan, June 29, 2015
Arbitrator Nolan concluded that M-39 Handbook Section 126.3 does not "directly relate to wages, hours, and working conditions" under National Agreement Article 19.
C-30249, National Arbitrator Goldberg, August 1, 2012
Layoff protection for clerks excessed into our craft
Arbitrator Goldberg accepted the NALC's position when he ruled that the Layoff Protection memorandum of understanding between USPS and APWU does not continue to apply to an employee who was covered by that MOU when they are transferred into another bargaining unit.
C-31171, National Arbitrator Nolan, Feb. 16, 2014
Only full-time employees may be reassigned to full-time carrier positions
The issue in this case was whether USPS could transfer NTFT (Non-Traditional Full-Time) clerks into full-time carrier assignments. Arbitrator Nolan ruled the Postal Service may not reassign into a full-time carrier position any clerk craft employee who does not meet the definition of full-time employee specified in the Postal Service's Agreement with the NALC.
C-31339, National Arbitrator Goldberg, June 24, 2014
Reassigned employees must meet minimum qualifications
In an APWU arbitration where NALC intervened, Arbitrator Goldberg upheld NALC's position and awarded: "When the Postal Service intends to reassign an excessed employee to a position across craft lines under the provisions of Article 12, it must determine, prior to the actual reassignment, that the employee meets the minimum qualifications for that position, including the physical requirements."
Regional awards of interest
C-30503: Regional Arbitrator Harry MacLean, Nov. 19, 2012
Simultaneous scheduling of overtime
Over the last 30 years, the NALC has gone to arbitration on almost 1,000 cases related to simultaneous scheduling of overtime of non-ODL and ODL carriers with mixed success. However, Arbitrator Harry N. Maclean provided what is, to date, perhaps the most complete and educational award regarding simultaneous scheduling of overtime. The award contains language that provides a roadmap for achieving success at regional arbitration. In his decision, Arbitrator Maclean discusses the two relevant national level awards and breaks down the two prevailing lines of thought on the subject.
C-30811: Regional Arbitrator Zane Lumbley, May 29, 2013
Administrative separation after a year of LWOP due to on-the-job injury
The case involved a letter carrier who has worked for USPS since 1983. He suffered a compensable injury in 2000 and worked in a limited duty capacity until 9/23/2008. The grievant endured two surgeries in 2008 and 2009 and was given some severe restrictions by his treating physician. USPS conducted a search for work from October through November 2011. When its search came up empty and the employee was in LWOP status for more than one year, USPS moved to separate the grievant. In his ruling, the arbitrator made a correlation between ELM 365.34 and 4.22 of the EL 505. When a carrier's disability is partial (able to perform some work) and work-related, USPS does not have the authority to separate. Instead, it must provide a limited-duty job or rehabilitation assignment. This is an outstanding award, well written by the arbitrator, and it should be read in its entirety.
C-31059: Regional Arbitrator Eileen A. Cenci, October 25, 2014
Leave buy-back provisions of the ELM
This case involves an employee who filed a recurrence of an injury. The claim was accepted by OWCP over a year later and the employee attempted to buy back her leave. USPS refused to allow the employee to buy back her leave because her claim had already been accepted. Arbitrator Cenci ruled:
The claim that an injury has recurred may or may not be accepted, and the outcome cannot be known at the time an employee files the claim. OWCP could determine that the injury is compensable as a recurrence or that it is a new one that is not compensable. In the absence of any provision for leave buyback employees awaiting adjudication on a claim for recurrence would have to choose LWOP, which would leave them without an income but allow for subsequent payment of compensation, or using their accumulated leave to continue to receive a salary, knowing they would forego wage loss compensation for that time period even after a favorable adjudication. The time period in question can be significant. In this case the grievant waited more than a year for an adjudication of her claim for recurrence. Many employees are not in a position to forego their income for such a lengthy period of time and would be forced to use their accumulated leave to cover absences while awaiting adjudication of a claim for recurrence, just as they do for initial injury claims. This would result in forfeiture of accumulated leave and an effective denial of wage loss compensation during the time period prior to adjudication. Nothing in the ELM suggests that such a result was intended.
C-31128: Regional Arbitrator Robert Brown, January 14, 2014
Removal of a CCA
This is the first NALC case where the arbitrator acknowledged increased protections for CCAs over TEs and addressed the issue in the Das award that states, "the concept of progressive discipline will not apply; discipline should be corrective in nature." The concept of "corrective rather that punitive" is usually defined in terms of progressive discipline, but the inclusion of the term "corrective" here in the same section, in which the requirement for progressive discipline is eliminated, requires that there be an accommodation between these two provisions. Quite obviously, a removal is not "corrective" in the context of employment by the Postal Service, as it is final. It is therefore necessary to evaluate discipline with that in mind, and it would seem that an appropriate approach is to determine whether there is a showing that the employee is incorrigible, i.e., most likely cannot be brought into compliance with the rules.
­C-31134: Regional Arbitrator Zane Lumbley, November 23, 2013
Arbitrator gives no weight to settlement discussions
All arbitrators should prohibit the introduction of any evidence about offers of compromise or settlement in the grievance procedure. There is a policy rationale for this rule: If such evidence were admitted, it would have a "chilling effect" on future efforts to resolve disputes. Both sides would hold back rather than offer to settle, because any offers might be raised in a later arbitration as evidence of a weak position. The arbitrator stated:
However, the fact that the Union may have been prepared to accept on the Grievant's behalf some lesser discipline for his November 3 activities can be given no weight in my deliberations as to the appropriate remedy since to do so would undermine the free exchange of such discussions between the parties in their efforts to resolve grievances at the lowest level of the grievance-arbitration procedure. Thus I shall devise an appropriate remedy without giving any weight to the substance of the parties' settlement discussions.
C-31147: Regional Arbitrator Betty Widgeon, January 21, 2014
ODL tracking—"missed" opportunities and "worker unavailable" opportunities
In this case, the arbitrator agreed that once the union established a prima facie case, the burden then shifts to the Postal Service to show that it made every effort to equitably distribute overtime. The arbitrator agreed with the Union's procedure in the case of "missed" opportunities, which is to average the number of overtime hours worked that day and to apply that average to each carrier who missed the opportunity. In the case where the carrier was unavailable, the carrier is charged that daily average up to the amount of his unavailability. In this way, carriers who were completely unavailable for overtime that day will end up with a balance of no overtime hours to be made up. Workers who were partially unavailable would end up with the amount of the daily average minus the amount of that person's unavailability. The arbitrator also found "willful disregard" on management's part and paid the Union's requested remedy.
C-31159: Regional Arbitrator John Hamrick, January 7, 2014
Back pay provisions of ELM 436.42.e apply separately to the period of emergency placement and the period of removal
This grievance stems from the Postal Service's denial of back pay resulting from an arbitration award. The arbitrator ruled that the actions of placing the grievant on emergency suspension and subsequently removing him from service were done without just cause. The emergency placement action was initiated on March 29, 2012, and ended on May 30, 2012. The notice of removal action became effective on May 31, 2012, and ended on Oct. 9, 2012.
The denial of back pay was based on the Postal Service's interpretation of the provisions of Section 436.42.e. of the ELM. It took the position that the emergency placement and discharge actions were to be combined into one action to decide how long the back pay period extended. Accordingly, it calculated the back pay period to extend from March 29 through Oct. 9, 2012, or a period of 195 days. The Postal Service then looked at the provision Section 436.42.e.3 of the ELM to determine the grievant's back pay. That provision states that if the back pay period is more than six months, the employee must provide documentation in support of efforts to secure other employment for all parts of the back pay period that exceed the first 45 days.
The union argued that the emergency placement and removal were two separate events, two separate grievances and therefore back pay must be treated separately. The arbitrator agreed that the Postal Service misinterpreted the language in Section 436 of the ELM and ordered the Postal Service to pay the grievant back pay for the emergency placement and removal.
C-31259: Regional Arbitrator Roberta Bahakel, April 1, 2014
CCA emergency placement for leaving vehicle running
This case is significant because it is the first award NALC has received regarding an emergency placement of a CCA. Management argued that rollaway/runaway incidents are a major concern and have the potential for great liability. The arbitrator stated:
While there is no doubt that this is true, each incident must be considered independently on its facts. Article 16.7 enables Management to act without notice in emergency situations, but Arbitrator Mittenthal has made it clear that Management still must show just cause for its actions. Not every safety violation will support an Emergency Placement. The language of Article 16.1 sets out that a basic principle shall be that discipline should be corrective in nature, rather than punitive, and provides for discipline for failure to observe safety rules and regulations.
C-31261: Regional Arbitrator Louise Wolitz, March 26, 2014
60-Day joint review after FSS adjustments and non-compliance with Step B decision
Management failed to conduct a joint review of the FSS adjustments and also failed to comply with a Step B decision on the matter. The arbitrator found management's violations egregious and ordered a remedy of $1,000 for management's non-compliance with a Step B decision and also ordered a remedy of $25 per day for each carrier who had to work over 8 hours and 10 minutes for a period that covered about 21 months. The arbitrator also ordered management to provide requested information to the union and conduct the required joint review and make any necessary route adjustments.
C-31281: Regional Arbitrator Barry Simon, April 18, 2014
Findings in criminal matters have no bearing on arbitrator
Arbitrator Simon ruled:
As he did at the hearing, the Arbitrator must note that the findings in the criminal matter against Grievant have absolutely no bearing upon his decision. Significantly, Grievant was not charged with being convicted of a crime, so her conviction cannot be considered an element of her alleged offense. The Arbitrator, under the terms of his contract with the parties, sits as a trier of fact in a hearing de novo. Different rules of evidence, rules of procedure and standards of proof apply in the two fora. The judge and the Arbitrator are two separate people who may see things differently and reach different conclusions. The Arbitrator has no idea what testimony or evidence was reviewed by the judge. The judge's decision has the same impact upon the Arbitrator as the Arbitrator's decision would have upon the judge—none.
C-31326: Regional Arbitrator Jonathan Klein, April 17, 2014
Failure to comply with make-whole remedies of pre-arbitration settlements
The arbitrator found that the pre-arbitration settlements at issue contained clear and unambiguous language regarding the agreed upon make-whole remedies for management's contractual violations, as well as the obligations which each party must fulfill in order to effectuate said remedies. The step-by-step procedure that must be used to process this type of back pay claim is detailed in EL-430-2012-4. The grievants were also awarded interest on any back pay at the federal judgment rate from the date(s) of the pre-arbitration settlement(s) under which the make whole calculation is to be made.
C-31383: Regional Arbitrator Lawrence Roberts, May 26, 2014
Article 16.6 - Indefinite suspension—crime situation
Arbitrator Roberts ruled:
Management must show that some form of investigation was conducted by them, and that internal investigation produced a reasonable cause indicating the bargaining unit Employee may be "guilty of a crime for which a sentence of imprisonment can be imposed." In my considered opinion, Management must be able to show some form of evidence that an Employee may be guilty. An arrest, in and of itself, fails to make the required "reasonable cause" requirement of Section 6.
The arbitrator quoted Arbitrator Sherrie Rose Talmadge:
Management has an obligation to confront the Grievant with the information it has received and provide the Grievant an opportunity to present his or her version of events. At a minimum, the Employer should interview the employee or at least invite him to submit a written explanation of the circumstances surrounding the arrest.
The arbitrator also ruled:
Management, in this case, based their entire reasoning of the indefinite suspension on a "bald record of arrest." And, in my considered opinion, this does not satisfy the reasonable cause standard set forth in Section 6.